Lady Dimitrescu Memes Resident Evil Fans Won't Want To Miss
Since Capcom revealed Lady Dimitrescu, a vampiric antagonist from its upcoming Resident Evil: Village, the internet has gained a new crush. Fans know some details about Lady Dimitrescu, like her status as the mistress of Castle Dimitrescu. Of course, gamers also know about her height. After her stature became such a topic of discussion online, Village art director Tomonori Takano released a statement explaining Dimitrescu's actual height. The nearly 10-foot-tall voluptuous vixen has inspired an intense fan following, full of creativity and yes, memes.
Advertisement
BossLogic shared a piece of fanart on Twitter depicting Lady Dimitrescu going up against her true foe, the famous Japanese kaiju, Godzilla. The mock movie poster shows Lady Dimitrescu towering over a city, Godzilla's spine visible in the water below. One comment said that the poster was good, but that a battle with Mothra would be better, naturally.
But BossLogic isn't the only person to share memes of this glorious tall lady. Xbox jumped into the fray, poking fun at the gigantic Series X by comparing its height to Lady Dimitrescu. Meme-makers from all corners have risen to the occasion, producing the best, (and sexiest?), memes that fans deserve.
Love is in the air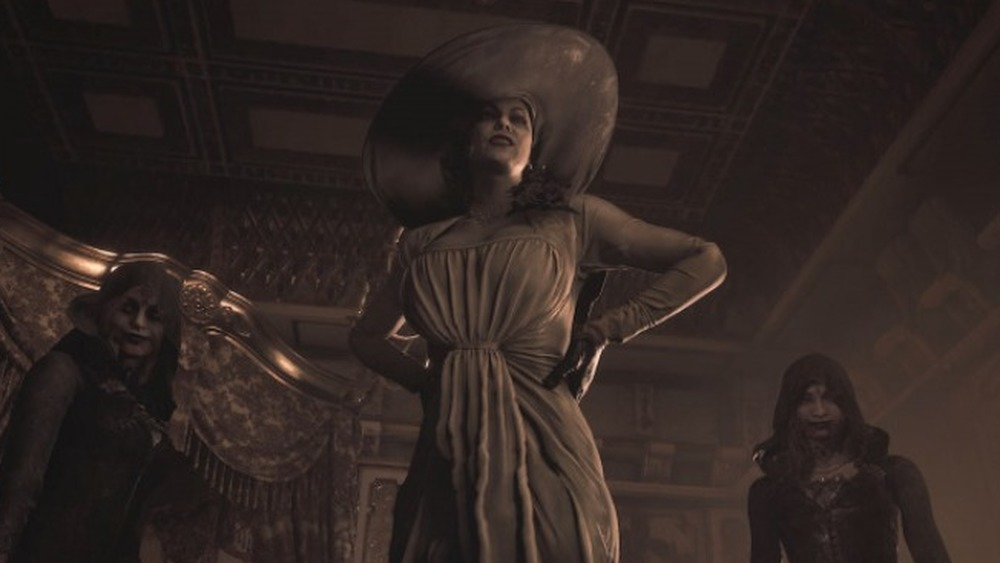 Many of the memes focus on love for Lady Dimitrescu, admiration for her stature, and an extreme desire to be stepped on by her. It's undeniable that online audiences think she's sexy — in a scary way. One meme pairs a video of Lady D eviscerating the protagonist of RE 8's Maiden demo while Tchaikovsky's "Fantasy Overture" from Romeo and Juliet plays in the background. For those who might not know "Fantasy Overture" by name, it's a song commonly associated with love and romance, immediately recognizable to fans of pop culture.
Advertisement
Part of the love fans feel for the mistress of Castle Dimitrescu stems from desire. One fan compared the internet's love of the tall lady to a famous line in Game of Thrones, combining Tormund's question of "The big woman still here?" with discussion of Lady Dimitrescu.
Some meme-makers seem to believe that the designers of Resident Evil 8 had no clue what they'd done when creating Lady Dimitrescu, but that Capcom is now along for the ride regardless. Cosplayers, meme-creators, and confused Redditors alike are eagerly expressing their excitement over their newest video game love-interest.