Corpse Husband Is Teaming Up With This Famous Rapper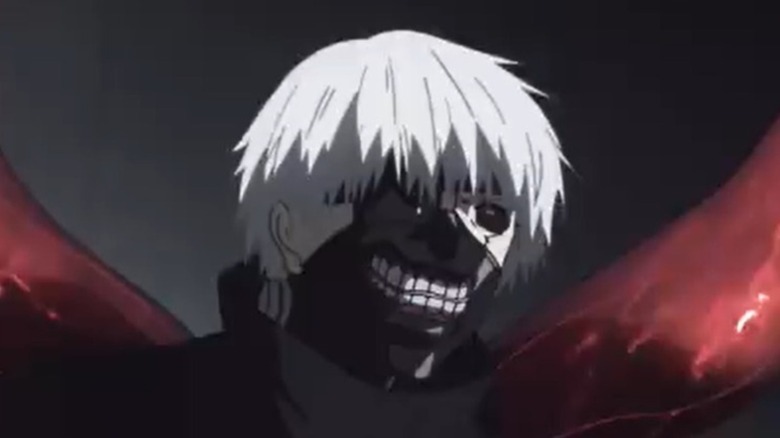 Corpse Husband is primarily known for two things: his voice and his anonymity. His voice because it's so deep, it makes you wonder if science hacked into him and turned the treble all the way down. His anonymity because, despite his popularity, no one has any idea who he actually is. Both of these details make him an incredibly compelling figure.
There's one lesser known fact about Corpse Husband that should be noted, though, and that is this: he dabbles in music, too. A look at his YouTube channel reveals a collection of six music videos, and over on Spotify, a track called "E-GIRLS ARE RUINING MY LIFE!" has over 113 million streams. Yesterday, he made a big announcement on this front: he'll be collaborating with rapper Machine Gun Kelly on a new song called "Daywalker," which is set to release this Friday. Afterward, a legion of fans — even some with very recognizable names — showed up to offer their support.
"Finally!!!!! It's so good," wrote Valkyrae. "Let's gooooooo," replied Jacksepticeye. One fan even told Corpse Husband she "squealed" when she read the news. Another wanted a more specific time for the drop, just so they could take their work break at exactly that moment. People appear to be pretty pumped about this release.
Of course, it being the internet, not everyone had positivity pouring out of their ears. A few different fans had some not-so-kind words for Corpse's partner on the project, Machine Gun Kelly. One in particular wrote, "MGK???? is that the same guy who's career was destroyed by eminem." Another echoed that sentiment, writing of Kelly, "I Thought Eminem killed him?" Let this be a lesson about rap beefs: if some people think you lost, they will never, ever let you forget about it.
The good news, at least, is that it appears the Corpse army will turn out strong for the new single. TimTheTatman happens to believe the collaboration is a "HUGE W" for the YouTuber, and Neekolul is "so excited" to hear it. They're just a few of the many who replied to the Corpse announcement, joining a horde of fans who will undoubtedly listen to the track the second it arrives. Until that time comes, Corpse Husband will likely spend some time prepping for his big day. There's no word yet on when exactly the song will debut, but you can probably find out more quickly by watching Corpse's Twitter account this Friday.