The Developer Of Control Just Started A New Console War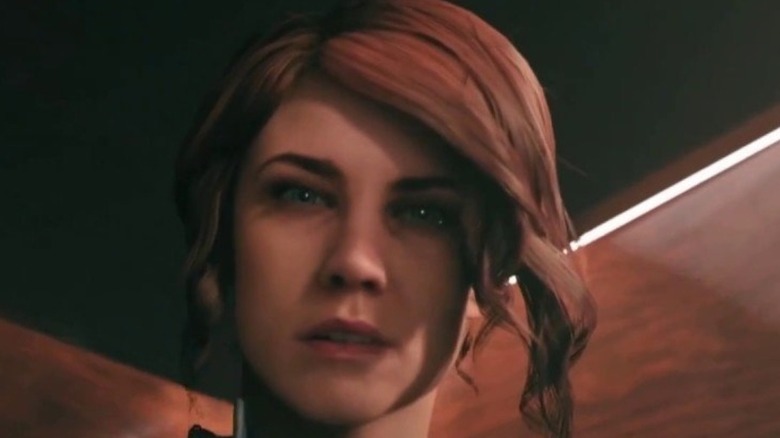 Remedy Entertainment's Control: Ultimate Edition has received a good deal of praise from critics, and it's easy to see why. Over the course of its runtime, there are exciting secrets to explore and plenty of additions to Remedy's connected universe to discover. However, getting the game to its current state was no easy feat for the development team.
In a new episode of IGN's Next-Gen Console Watch, Remedy Entertainment Communications Director Thomas Puha explained the difficulties of making a game for multiple console generations. Along the way, he also told the panel why he felt one of the newest consoles was much easier to design for. Players have argued about which console company is better for years, but it seems like developers may have their own ideas about the best system to use.
Right from the get-go, Puha admitted that "it sucks" trying to develop a game with cross-gen support in mind. For one thing, Puha pointed out that any next-gen enhancements that are baked into a game are "pretty limited" by whatever design decisions were made while developing the previous-gen version. On the flip-side, Puha mentioned that there were several enhancements made to the game that weren't even implemented by Remedy. For instance, the load times for Control's next-gen release were lauded by critics, but Puha admitted that this was simply a consequence of the game running on next-gen hardware. 
Even so, Remedy had a lot of work to do to get the game running correctly on next-gen consoles. The game's engine had to be reworked from the version of the game that shipped in 2019, and things like ray tracing were added in to give Control a true next-gen sheen. However, this process ended up being a bit of a slog when it came to optimizing Control for the new Xbox family of consoles.
Puha said that he ultimately likes both the PS5 and the Xbox Series X|S. However, as he explained to IGN, Sony seemed to be "a bit more ready" when it came to finalizing its software for the PS5, so Remedy was able to get right to work on bringing Control to the PS5. Puha said, "Sony stuck what worked, their development software and tools were pretty stable and good pretty early on. Microsoft opted to change quite a lot of things, which in the long run are probably good, but of course it was just a bigger hurdle for us devs early on because we had to rewrite a bunch of different things to take advantage of specific features."
Puha also felt that developing games for the Xbox Series S may end up holding developers back, at least when it comes to making games the best they can possibly be. As he explained it, games have to designed with "the system with the lowest specs" in mind, which can limit studios in some ways.
To drill this point home, Puha quipped, "I don't envy folks making Halo Infinite."
That being said, Puha expressed his excitement for the true next-gen games that Remedy has coming up, promising that fans would enjoy what the developer has in store. Control: Ultimate Edition is available now.