Apple's CEO Will Take The Stand Against Fortnite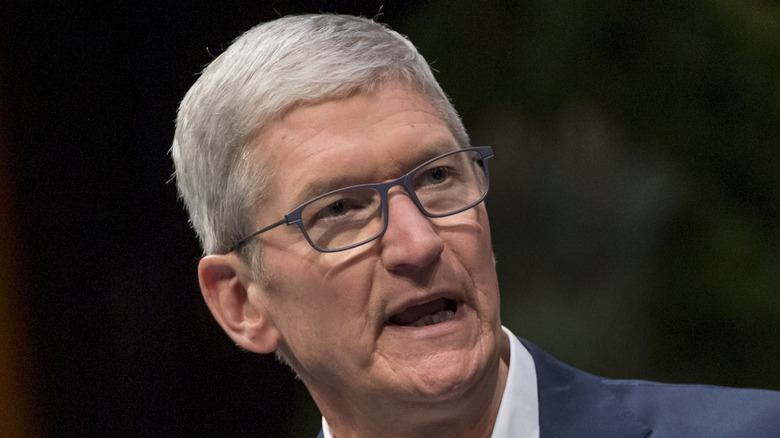 Bloomberg/Getty Images
As reported by CNN, several prominent Apple executives, including CEO Tim Cook, are set to testify in an upcoming trial where they will face off against Fortnite creator Epic Games.
The conflict began in August 2020 when Epic installed a store within the Fortnite app that would allow players to makes purchases directly from the developer, circumventing Apple's App Store and the 30% commission the company takes off all in-app purchases. This violated the App Store's guidelines and Apple responded by removing Fortnite from the platform.
Advertisement
Epic took the same approach for Android devices and Google countered by ousting Fortnite from Google Play. Epic immediately fired back with lawsuits against both tech companies, claiming that Apple and Google violated antitrust laws designed to protect market competition and consumers.
Before lighting the spark with its mobile payment workaround, Epic founder and CEO Tim Sweeney hinted at the impending call to arms in a July 2020 interview with CNBC. "Apple has locked down and crippled the ecosystem by inventing an absolute monopoly on the distribution of software, on the monetization of software," said Sweeney. "They are preventing an entire category of businesses and applications from being engulfed in their ecosystem by virtue of excluding competitors."
Advertisement
Epic has approached the situation from the standpoint that, as the maker of what a 2020 GAME report named the most played game in the world, it has a duty to stand up to tech giants on behalf of smaller developers that don't have the means. In contrast, Apple has voiced the opinion that this is purely a publicity spin, asserting that Epic is a large cooperation itself and its real motives are based on profit and not altruism.
"Our senior executives look forward to sharing with the court the very positive impact the App Store has had on innovation, economies across the world and the customer experience over the last 12 years," Apple told CNN in a statement. "We feel confident the case will prove that Epic purposefully breached its agreement solely to increase its revenues, which is what resulted in their removal from the App Store."
Whatever Epic's motivations, the fact that Cook, Senior Vice President of Software Engineering Craig Federighi, former marketing chief and Apple Fellow Philip Schiller and several other high-level Apple executives are personally taking the stand to testify on behalf of the company indicates Apple is taking the allegations seriously. Similarly, Epic plans to call Sweeney and several of its own executives to testify on behalf of Epic's business model and financial performance while decrying Apple's business practices.
Advertisement
Court documents reportedly indicate the Apple vs. Epic Games trial could begin as soon as May 3.