Report Reveals New Clues On The Nintendo Switch Pro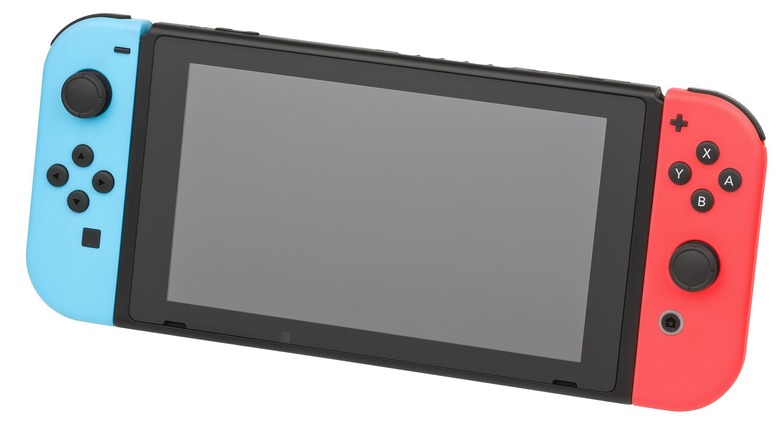 Evan-Amos/Wikipedia
While Nintendo Switch Pro rumors have circulated for years, fans may have finally gotten some concrete clues about how a new Switch might improve upon its predecessor. According to a recent Bloomberg article, Nintendo plans to integrate Nvidia technology into the Nintendo Switch Pro, which would allow the console to support higher-quality graphics on a new OLED display. The Switch Pro would also be able to deliver 4K resolutions when docked.
Bloomberg reports that the Nintendo Switch Pro, which remains officially unannounced, will utilize Nvidia's Deep Learning Super Sampling (DLSS) technology to deliver improved visuals and performance. According to Nvidia, DLSS "uses advanced AI rendering to produce image quality that's comparable to native resolution – and sometimes even better – while only conventionally rendering a fraction of the pixels," which improves visuals overall. DLSS technology has already received praise from PCMag, PC Gamer, and others for delivering significant framerate boosts in supported PC games.
If Bloomberg's sources prove to be correct, then DLSS technology's integration could solve a significant problem for the Nintendo Switch. As a handheld console, the Nintendo Switch simply hasn't been able to offer the same level of hardware as its competitors, the Xbox One and PlayStation 4, could. That technology gulf has only widened now that a new generation of console hardware has arrived in the Xbox Series X|S and PlayStation 5.
The reveal of new Nvidia DLSS applications also supports a previous report from Bloomberg that the Nintendo Switch Pro will feature a 7-inch OLED display, the largest ever for a Nintendo Switch product. Those displays, Bloomberg reports, could go into production by Samsung in June 2021. That report also mentioned plans for the new console to display 4K visuals when connected to a TV, which DLSS technology could make possible.
While the option to play Nintendo Switch games at 4K resolutions is exciting news for gamers, Bloomberg does mention that DLSS technology requires additional code to function. This means that 4K capabilities are most likely to be seen in new games designed with the technology in mind, although older games could conceivable receive an upgrade. In a final piece of interesting information, Bloomberg Intelligence analyst Matthew Kanterman predicts the Nintendo Switch Pro's price will be higher than the current model. Kanterman said, "$349.99 will increase the value proposition of the device, but I still think Nintendo can drive strong demand even at $399.99."
It's hard to say when Nintendo fans can actually expect a new console. When discussing the truth about a Switch Pro release, Nintendo president Shuntaro Furukawa said that there are no immediate plans to announce a new model. However, with major outside manufacturers seemingly involved in producing both hardware and technology for a Nintendo Switch Pro, that announcement may be closer than Furukawa is letting on.