Cyberpunk Finally Lets You Sleep Like A Normal Person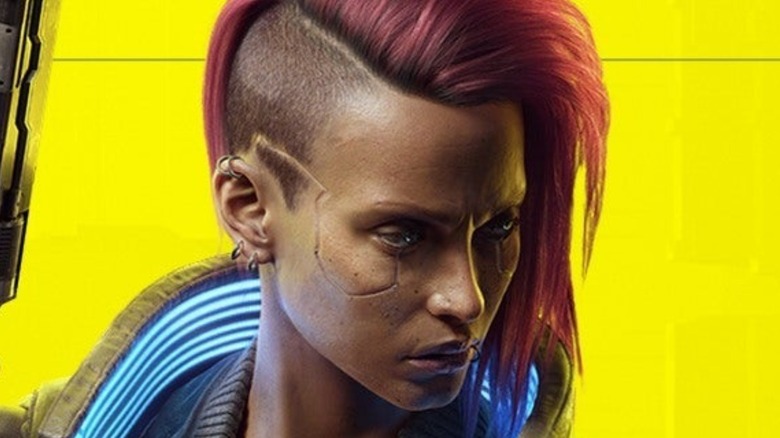 Cyberpunk 2077 had one of the worst releases in recent gaming history — to the point that people were looking to sue developer CD Projekt Red over alleged misleading information and the abundance of issues the title had at launch. Thankfully, the 1.2 update addressed hundreds of these bugs and problems, including one of the main character's biggest quirks.
Players have long been perplexed by the way that V slept. Instead of lying on the bed vertically, V would collapse onto the center of the bed at a horizontal angle. As illustrated by one Redditor, the character's hand placement seemed to indicate that their body wasn't even fully on the bed, with their lower half hanging off the edge. Now, V actually lies down with their head on the pillow in what appears to be a more standard sleeping position. Twitter user CyberOutlawGG posted a video of the new animation.
Fans were pretty split about the importance of the bug and took to Twitter to voice their opinions. On one hand, some people felt Cyberpunk lacks immersion and that small changes like this are important step towards keeping players engaged with the world. Twitter user Skullmom argued that the update "made people happy and added to the immersion," with similar support appearing throughout the responses to CyberOutlawGG's video.
Alas, for every happy fan, it seemed there was someone else upset by the attention V's sleeping position received. Twitter user The Professor wrote that "this 'issue' got attention it never should've gotten." Another user, KitsuneObsessed, said that "It's honestly pretty sad when the developers are so rushed by the fans that they don't even have the time to fix the big issues, and then people complain about the little issues like this."
And then there were the outliers. At least one fan didn't even realize V slept so weirdly. Twitter user Big D The Icedman said, "I don't notice any difference from how V slept then to how he sleeps now in game." Hey, every player pays attention to different things, right?
Regardless of how you feel about the sleeping change, CD Projekt Red developers worked hard to pump out glitch fixes despite delays the group experienced after being hacked earlier this year. With continuous support like this, Cyberpunk 2077 may one day become the game players were expecting when it launched.