The Resident Evil Village Feature That'll Undoubtedly Be Abused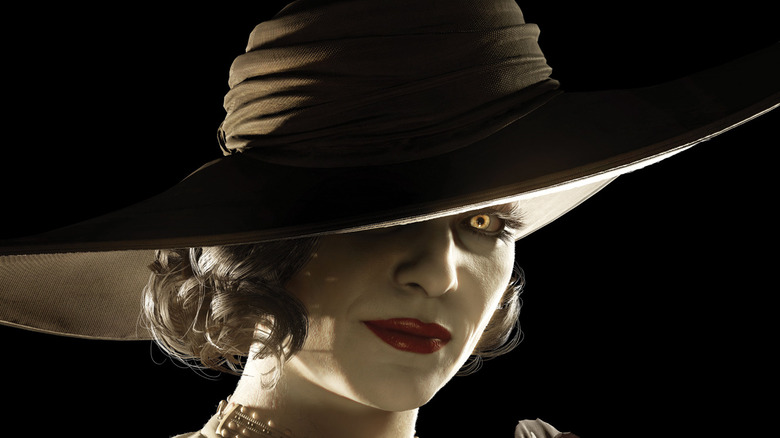 IGN recently shared a first look at Resident Evil 8: Village gameplay on the PS4 Pro. The video also served as a subtle reveal for a feature some thirsty fans are certain to abuse: a photo mode.
Eagle-eyed viewers will notice the "Skip/Photo Mode" indicator appear next to the PlayStation's Options button icon in the bottom right corner of the screen during a cutscene at the 4:24 mark. According to GameRant, this will be the first time the series has had this feature built in, even though Resident Evil has a reputation for eerily intriguing visuals.
Previous Resident Evil narratives lean more toward urban settings and take a very modern approach to the genre. The newest addition to Capcom's premier horror series is taking the franchise in a slightly different direction. The official trailer for Resident Evil 8: Village features witches, werewolves, a Gothic European castle and some very attractive vampires — all worthy subjects for a photo mode. One vampire in particular has stood out above the rest though.
The internet has taken a deep interest in Lady Dimitrescu ever since the game's first announcement video back in June 2020. Fans on Reddit have fallen head-over-heels for Resident Evil's "Big Tall Lady" (with not all of their threads being SFW). Even KFC Gaming posted a teaser for I Love You Colonel Sanders 2 on Twitter back in February that featured Lady Dimitrescu.
The official Resident Evil Twitter page shared a message from Village art director Tomonori Takano about the amusing and unexpected popularity of the new antagonist. "Lady Dimitrescu and her daughters have received a fair amount of attention, far more than we anticipated. It's great that they're able to take the spotlight as icons of Resident Evil Village."
Lady Dimitrescu is already the subject of numerous memes, having grown into a cultural phenomenon despite the fact that Village has yet to release. We can only speculate to what nefarious ends fans will use images of her captured with Resident Evil 8: Village's photo mode when the game finally launches. There are sure to be plenty of players who will use the photo mode for its intended purpose: capturing images of snow-swept Gothic vistas, horrifying monsters and creepy passageways. Just be prepared for the inevitable onslaught of sexy vampire pics filling your Twitter feeds.
Resident Evil Village releases on May 7, 2021 for PC, PS4, PS5, Xbox One, Xbox Series X|S, and Stadia. PS5 owners can play the Maiden demo now.