This Artist Wants To Bring Virtual Concerts To GTA Online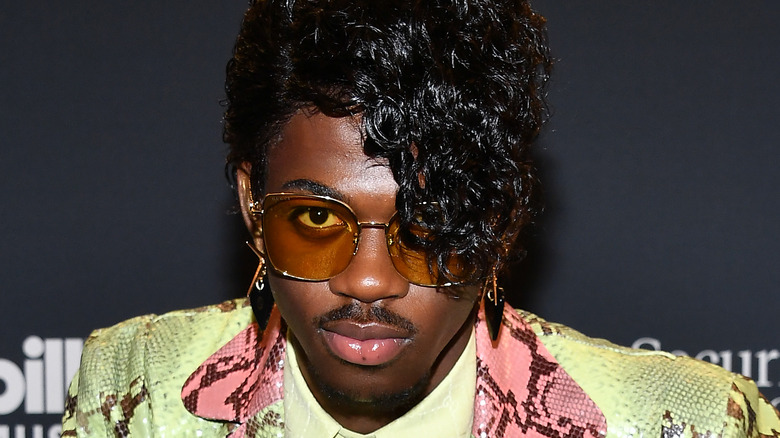 Amy Sussman/bbma2020/Getty Images
Due to COVID-19's impact on the entertainment industry, online concerts have became increasingly viable as alternatives to live music. While some artists chose to stream on platforms like YouTube, other musicians turned to video games as venues for performances. Fortnite's Travis Scott concert elicited a great response from fans on Twitter, and Marshmellow, Fortnite's first live concert performer, drew a crowd of 10 million fans. Now, one musician is advocating for online concerts in GTA Online, and he just might be able to make it happen.
On April 3, rapper Lil Nas X tweeted, "gta should do virtual concerts." While the tweet was simple, the sentiment was not. Lil Nas X famously performed a digital concert for a horde of enthusiastic Roblox fans in 2020. When he uploaded the concert to his official YouTube page, he commented, "If we did one more concert who would come?!!" This comment, along with Lil Nas X's history of inventive, conversation-starting marketing, indicated that he'd be willing, if not excited, to perform in other digital spaces in the future.
Lil Nas X is no stranger to video games and technology. Lil Nas X appeared in a Logitech commercial with other boundary-defying artists and influencers, which aired during the 2020 Super Bowl. Additionally, Lil Nas X streamed Among Us with Pokimane and Valkyrae, two of the most famous and successful streamers working right now. Lil Nas X's dedication to playing in the digital space, as well as performing, may make him well-equipped to christen GTA Online with a concert.
Many of Lil Nas X's fans responded positively to his tweet about performing in GTA Online. One user declared that they wanted a recreation of Lil Nas X's music video for "Montero (Call Me By Your Name)," the rapper's latest single, in GTA Online. Another commenter pointed out that Grand Theft Auto jumped into the digital concert scene before any other game by hosting Phil Collins in Vice City Stories. Yet another fan mentioned that he'd been performing in GTA Online on a roleplay specific server for years, meaning an online concert in GTA Online is a proven possibility.
While Lil Nas X's tweet hasn't stirred up any official response from Rockstar Games, it seems at least some of the GTA Online community is ready for a fresh type of online event. Maybe the Vinewood Bowl will receive new purpose as an online venue for real-life stars to perform.