Lil Nas X Plays Among Us With Pokimane And Valkyrae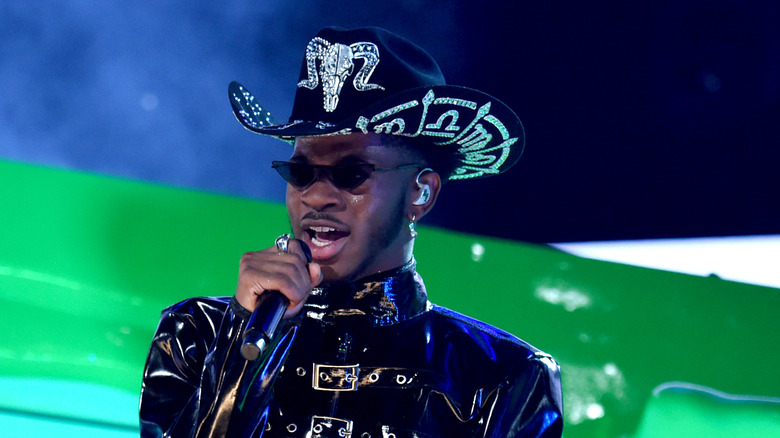 John Shearer/Getty Images
Confirmed: celebrities are just as obsessed with Among Us as everyone else, as evidenced by Lil Nas X's recent live stream with Pokimane, Valkyrae, and other popular gamers.
The music superstar, known for the longest tenure in the Billboard number one spot of all time with his hit song "Old Town Road," joined a slew of streamers Sunday, Dec. 20 for a night of sussing out the imposters and of course, singing the song that's been stuck in everyone's heads since its iconic 2019 release. Corpse, Dream, CrankGameplays, Sykkuno, Bretman, Ludwig, Disguised Toast, Karl Jacobs, Pokimane, and Valkyrae enjoyed over three hours of gameplay, hijinks, jokes, and fun along with Lil Nas X.
The "Old Town Road" artist isn't the only celeb who is loving Among Us and joining in on gaming and streaming culture. Representative Alexandria Ocasio-Cortez, best known as AOC, broke Twitch records with her gaming and Get Out the Vote initiative on Oct. 20. Together with fellow players Representative Ilhan Omar, Pokimane, HasanAbi, Jacksepticeye, and Dr. Lupo, AOC's Among Us event garnered the highest amount of views for a new Twitch account. Not bad for a first-time player!
As the world discovers how well streaming and celebrities go together, it's clear Among Us and Lil Nas X are the perfect match: both have exploded into mainstream popularity and continue to reign supreme in their respective fields. As the viral musician continues to release new tracks like his seasonal jam "Holiday," the Mafia-reminiscent multiplayer game is coming to Xbox in the new year.
New reports from SuperData claim Among Us as "the most popular game ever in terms of monthly players." It's no surprise given the game's low price tag, virality, and wide availability. With versions available for mobile, PC, and Nintendo Switch as of Dec. 15, gamers old and new alike can easily enjoy this quick, multiplayer sensation on their device of choice — just like their favorite streamers and celebs are doing.
As someone Time Magazine quoted as "'100% addicted' to his phone," Among Us seems like the perfect fit for Lil Nas X, a tech-minded millennial, musician, and social media mogul who is happy to hop on the latest trends (when he isn't creating them, that is). Famous for blurring the lines between genres, sharing his fair share of dank memes, and high-profile celebrity collaborations, Lil Nas X has made his mark on pop culture by doing what Among Us is all about: having fun with friends, rocking every style, and thinking outside the box.
If you're looking for a star-studded spectacular, you can check out Lil Nas X's Among Us stream here.