This New Fortnite Feature Is Only Coming To PC And PlayStation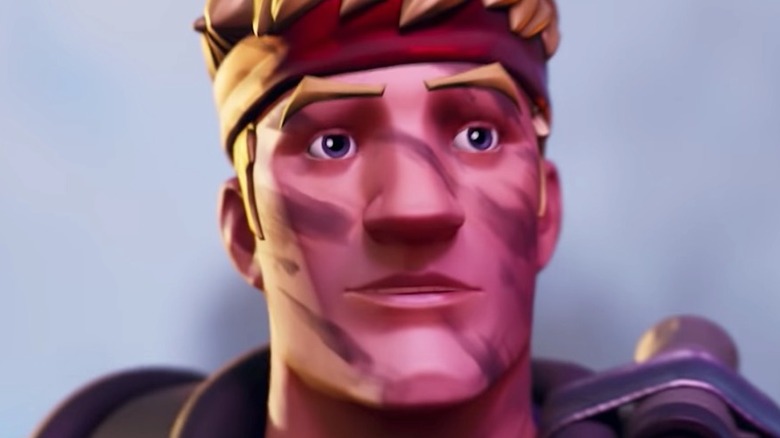 Streaming and Fortnite go hand-in-hand. The insanely popular battle royale consistently garners some of the largest audiences on Twitch, claiming the number four spot as of April 2021 according to TwitchTracker. Twitch, of course, isn't the only streaming platform out there. Because there are plenty of competitors in the market, streaming exclusivity on specific gaming devices could give those systems an edge within the Fortnite community.
Epic Games recently announced that Fortnite fans can now broadcast their sessions on the streaming platform Houseparty. Those who start playing can engage Fortnite Mode in the app, which makes the stream visible and sends notifications to connected Houseparty users. This makes it easy for members within a friend network to "jump into a stream, leave some words of encouragement, and help them along the way!" In order to get started, you'll need to download the app on your preferred mobile device and then link your Epic Games account.
While this may be exciting news to some gamers, many might feel left out, as this new feature is only available through PC and current PlayStation consoles. The announcement's FAQ section suggests that other platforms could receive the functionality at a later date, though such a possibility remains uncertain.
Epic Games scooped up the Houseparty video chat service back in 2019, which hinted at big plans for the battle royale. The following year, the app rolled out a new Fortnite feature that was predicted to reshape the game's future. By adding video chat, gamers could battle friends in a whole new way. Integrating streaming tools was the logical next step, creating a convenient and comprehensive way to broadcast your Fortnite matches.
How will this exclusive feature affect the landscape of the hit battle royale? Is it possible that for the time being, this will skew more players to play Fortnite on PC, PS4, or PS5? Will more Fortnite streamers turn to Houseparty as an easy way to co-host streams with friends? Currently, Houseparty sessions through Fortnite Mode are restricted to the players and a maximum of nine spectators, but who knows what other possibilities are on the horizon. Perhaps if this feature is popular enough, Houseparty could open up to public streams, giving PC and PlayStation owners an even greater advantage.
For now, the app offers users a premium social experience when playing Fortnite. Hopefully, Switch and Xbox owners can join the party one day.