Here Are The Creepy Enemies That'll Be Killing You In Resident Evil Village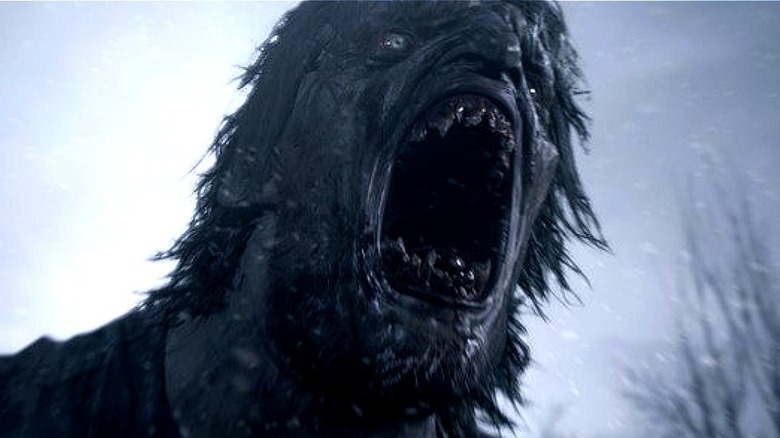 For a long time, fans had nothing more than some pretty outlandish Resident Evil 8 rumors to go by. In June 2020, however, the Resident Evil Village trailer offered up some more exciting details, and then in January 2021, gamers got even more from the full Resident Evil Village showcase trailer. Even though the game's May 7 release date is finally right around the corner, there are still plenty of mysteries surrounding RE8's antagonists. 
Advertisement
The internet was abuzz after Resident Evil fans were introduced to Lady Dimitrescu, and with a new trailer arriving from Game Informer, there has been one more enemy reveal that promises to give you the creeps. The trailer shows viewers a variety of baddies from previous videos, including Resident Evil's favorite vampire lady, her daughters, and a horde of hooded zombies. One other creature notably shows up that looks like it will pose quite a threat to Ethan Winters.
In the video, a slouching, pale, hairy beast menacingly approaches and pins down the protagonist, and this enemy seems to have quite the appetite. Not only that, but it carries a spiked mallet-like weapon on its back, so this thing can hurt Ethan in more ways than one. Near the beginning of the trailer, you may also notice a quick preview of the beast perched atop a roof, waiting for its next victim. Toward the end of the video, this creature, which is presumably some kind of werewolf, can be seen roaring furiously, followed by a shot of two of them huddled over and feasting on an unfortunate victim. Although these creatures were briefly glimpsed in previous trailers, this video offers the best looks yet at the feral monsters. 
Advertisement
In general, viewers are excited for the release of Resident Evil Village, but a few have taken particular notice of these fearsome foes. One user in the comments wrote, "I know most people are excited for Lady D, but I cannot wait for the werewolves! They look awesome!" Another simply said, "That werewolf tho," followed by two fire emojis.
It's important to note that this is only a taste of what's to come, as Game Informer will be offering exclusive coverage of the game in the next two weeks. Maybe soon, fans will be able to gain a little more insight into Lady Dimitrescu's connection to the werewolves, and what the hairy fiends do with those deadly weapons.