PlayStation Owners Have A Big Advantage In The Resident Evil Demo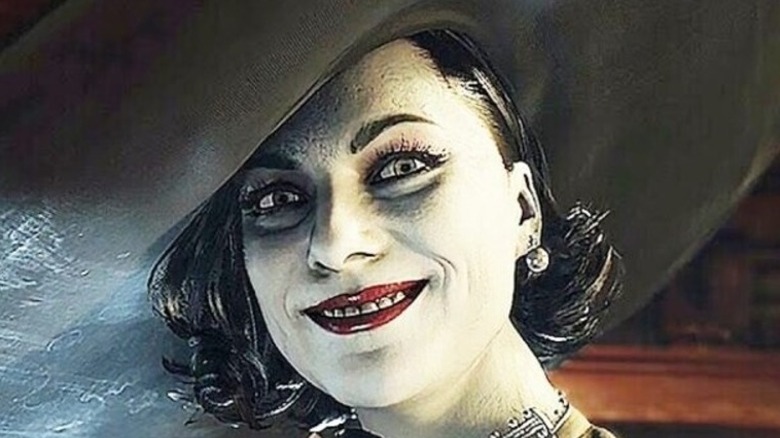 The latest Resident Evil Showcase from April 15 was a total doozy. On top of a number of newly-announced developments coming to the franchise, PlayStation owners got some good news: they'll get to try out the upcoming Resident Evil Village demo long before their counterparts on other platforms.
According to the demo schedule shared by the official Resident Evil Twitter account (@RE_Games), there are three demo periods on the way, and the first two are just for PS4 and PS5 players. The first in the series, the Village Demo, launches in North America April 17 at 5 p.m. PDT. Next is the Castle Demo, which comes out exactly a week later on April 24 at 5 p.m. PDT. These demos will last a half-hour each, and they'll only be available for an 8-hour window. In other words, it's time to start clearing your schedule.
Though PS gamers have a huge head start, everyone will still get a chance to play the multi-platform versions of the demos on May 1 at 5 p.m. PDT. For 24 hours, Xbox and PC players will be able to check out the full hour of new content, and PS players who want another chance to play or who missed the first 8-hour window will also be included.
Many fans weren't too happy to hear that PlayStation players are getting a leg up, so they sounded off in the replies to the @RE_Games schedule tweet. There were many complaints about the demo format's time limits, as well as concerns that this would fracture fan hype into separate camps. User @its_menieb wrote, "We want normal demos not limited time." User @monkey_brooks felt similarly: "Way to divide the fanbase's excitement. Such a pointless release strategy for a bloody demo." Among the very few fans who weren't disappointed by this news, user @hondafreak2468 wrote, "Attention all developers: follow the example of how Resident Evil 8 is handling their demo and do what they do. Genius!"
Though not everyone is happy about how the demo is being handled, the silver lining is all the other major news the Resident Evil Showcase brought with it. According to IGN, the announcements included an upcoming VR version of Resident Evil 4 for the Oculus Quest 2, the readdition of mercenaries to Resident Evil Village, a future Dead by Daylight collab, and new story trailers for both the Resident Evil: Infinite Darkness film and Resident Evil Village. That's a lot of juicy developments all at once.
The full release of Resident Evil Village drops May 7 for PlayStation, Xbox, and PC. There are plenty of interesting new aspects of the game to look forward to, like a much-anticipated photo mode and, of course, the mysterious sexy vampire Lady Dimitrescu. If you're itching for a chance to play now and you just can't wait, don't forget to check out the Resident Evil Village Maiden demo, available exclusively on PS5.