Here's Why Warzone Has Even More Zombies Now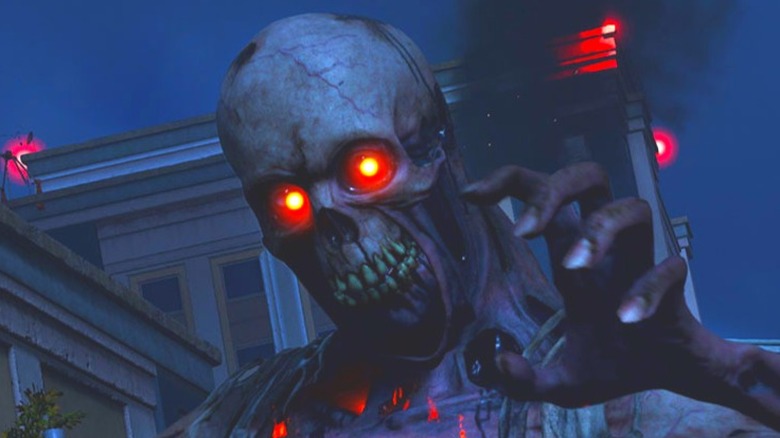 Players face a variety of obstacles in popular FPS battle royale Call of Duty: Warzone. From snipers to increasingly bold cheaters, there are many dangers to navigate. And now it seems players will have to deal with even more zombies in Verdansk, this time controlled by other players. 
After Call of Duty: Warzone posted a mysterious notice on the game's website stating that the map had reached 100 percent contamination, some players on Reddit noticed a way to come back from death without the gulag. In the comment section of a post on Reddit about the mysterious notice, u/Marvel-Habs4Life wrote "Die in the gas and you become a zombie! Me and my friends been doing it like crazy! Easy wins!" u/woosniffles also posted about dying in the gas and returning as a member of the undead.
Zombies have been present in Warzone since early in Season 2 of Black Ops Cold War, but their inclusion felt more like an afterthought to some players. Redditor u/P00nz0r3d shared how they had been excited for the inclusion of zombies but were disappointed with their implementation. "What we got is literally a mini-game that has no risk and laughable reward, and the zombies don't even stick around," wrote u/P00nz0r3d.
Players don't seem very happy with the addition of more zombies into the battle royale. In a lengthy post by u/Schneider_fra on the CODWarzone subreddit, they went into detail on their many issues with the game, including the new zombies' update. "It could be cool if a real zombies outbreak was happening. But it's not," they said. "If hundreds of zombies spread from an epicenter, you can call this an outbreak. But few dozens of zombies going from one a place to another week after week ? This is not an outbreak, this a ridiculous travelling circus."
While it is impossible to please everyone, Activision has struggled to keep the Call of Duty: Warzone fanbase satiated. Twitch streamer NickMercs recently made a video talking about the myriad of issues in the game, ranging from bugs and glitches to the ongoing hacker problems. Warzone has also had difficulty keeping the weapons in the game balanced, like the DMR 14, which gained a power boost when it was supposed to be nerfed. It seems the developers at least have something big planned for Warzone next week, as the game's official Twitter account posted "4.21.21. The end is near... #Warzone."