This New Netflix Series Has Gamers' Full Attention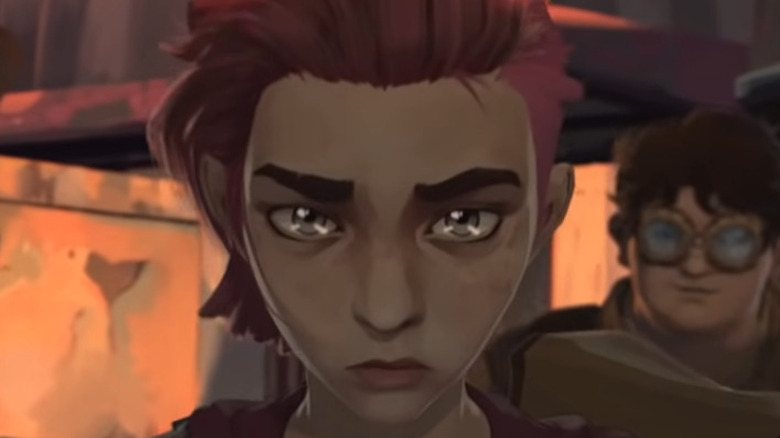 "League of Legends" fans finally got an update on the game's long-awaited animated series, "Arcane." Netflix has just dropped a trailer that not only confirms a fall 2021 release date, but it also contains a few fast-paced scenes that tease more of what to expect in this "tale of two heroes." The trailer showcases gun-slinging, arm-swinging action in one of the cyberpunk-inspired cities straight from "League of Legends."
Riot Games announced "Arcane" during "League's" 10th anniversary celebration back in October 2019, along with a slew of other exciting updates. However, what was a much appreciated surprise for audiences turned into disappointment when Riot pushed back the series' release date due to complications stemming from the COVID-19 pandemic.
At the time, Riot Games' Greg "Ghostcrawler" Street explained that the team ran into issues with remote work. Street said that video meetings were  "no substitute for being in a room where we can really get the creative energy flowing" and that "technical difficulties of production at the international scale" ultimately pushed Riot to reconsider the release date for "Arcane." He let fans know that the team was "bummed" that it couldn't meet the original release date but that the project was still moving forward.
The description below the first "Arcane" trailer from 2019 says that the series is as an origin story that follows "two iconic 'League' champions—and the power that will tear them apart." Based on the existing trailers and lore, many fans suspect that the series will feature Jinx and Vi. Two unnamed children — one with suspiciously familiar pink hair and one with blue — appear together in the original trailer. Meanwhile, Jinx and Vi appear as they currently are in "League," full grown and fighting with each other, in the most recent teaser. In other words, fans may finally get clarification on the lore surrounding the two related characters and how they turned on each other.
"Arcane" is only the most recent in Netflix' many popular original series based on video games. Netflix also released "DOTA: Dragon's Blood," an animated series based off of Valve's popular strategy game series, earlier this year. Neither Netflix nor Riot have confirmed an exact release date for "Arcane." However, considering the Fall 2021 target window, it seems like the earliest spectators can expect the series would be sometime around September 2021.