How Gamers Are Getting More From The Resident Evil Village Demo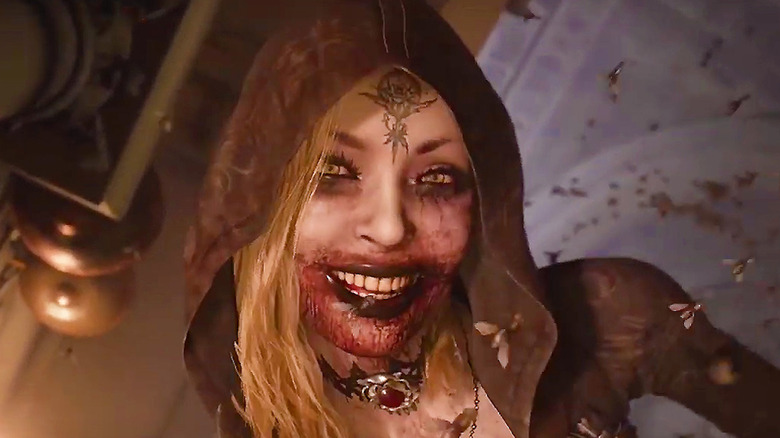 With "Resident Evil Village" fast approaching, many fans are enjoying the hour-long demo for the game. Capcom has extended the demo, giving players an entire week to play through it. However, the demo's strict one-hour time limit is still in place. However, PC players have reportedly discovered a way around the limitations of the newest "Resident Evil Village" demo. Over on Steam, user Leaves has provided a detailed process to allow Steam users to reset their one-hour time-limit.
The process seems simple enough. First, players must disable the "Resident Evil Village" demo cloud saves. After downloading Steam Achievement Manager, you need to delete your local save files. Using Steam Achievement Manager, you then need to remove achievements and stats. Doing all that will reset the one-hour timer for the demo, and the process can reportedly be repeated as many times as you want. 
A number of other users in the comments confirmed that this method worked for them. Leaves wrote, "[to be honest] there is not much content in the Demo ... So 1hr is plenty to complete both 'Demos'. But this is a way to reset and it is very quick, like a couple of seconds."
The "Resident Evil Village" demo is available through May 9, running a few days past the game's full release on May 7. While an hour is enough time to play through both demos, according to Capcom, players that focus more on exploration may want a bit more time. The schedule for demos prior to Capcom's extension was complex, with the Castle and Village demos being available separately on PlayStation during a stringent 8-hour window. After that, the demos were supposed to be available together on all platforms for 24 hours. The demo and full game are available for players on PlayStation 5, PlayStation 4, Xbox Series X|S, Xbox One, Steam and Stadia.
Producer Tsuyoshi Kanda said in an interview with IGN that Capcom was prepared to dump the last-gen versions of the game if the developers were unable to achieve a certain level of quality, and the demo allows players to ascertain whether or not Capcom has achieved that goal. Considering how long "Resident Evil Village" was in development, it makes sense that gamers may be expecting high quality from the latest installment in the horror franchise.