Warzone Update Adds A Weapon We've Never Seen Before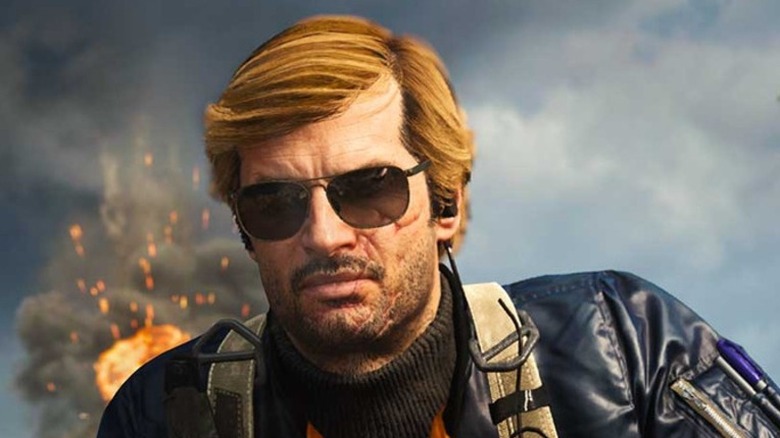 "Call of Duty: Warzone" and "Black Ops – Cold War" just dropped a new bundle that brings rock n' roll to the battlefield. The Music Legend Mastercraft Bundle features the riff-friendly alternate FFAR-1 assault rifle, Shredder. And no, it's not designed to look like the "Teenage Mutant Ninja Turtles" villain. This deadly weapon is essentially the "Call of Duty" version of a keytar. Operators can now strum to the beat of the bombs as they eliminate enemies.
To further the rockstar vibe, Shredder sports a steel blue metallic coat with stars painted over it. The extended barrel mimics a guitar neck with metallic strings and knobs near the grips, and it even boasts a built-in keyboard with black and white keys at the base of the gun. It's supposed to look like a Keytar when the player holds it upright. As demonstrated in a video from RaidAway, players can trigger a catchy tune in the middle of a match with the "Flourish" emote.
The Shredder rifle isn't all that comes with the musical bundle, either.
The Shredder will rock you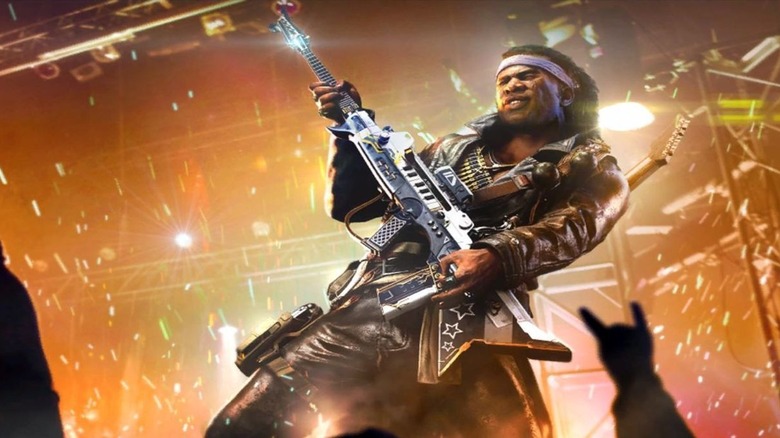 Players who purchase the bundle will also get the Amped Up Diamatti pistols as secondary weapons, along with the Rockstar skin that turns operator Wolf into a hardcore musician. Other items include the Soul Searcher watch, Center Stage vehicle skin, Riff horn, Super Disco charm, Battle Shredder emblem, and Cultural Export calling card. All of it costs 2,400 Call of Duty Points, which is about $20 (via Tracker Network).
Activision announced the Music Legend Bundle last month, but only recently put it up for purchase. Some players weren't pleased with what they thought to be a joke of a gun. However, RaidAway was among the players who said they enjoyed the creative designs, despite how they contrast with "BoCW's" gritty historical setting. The design doesn't seem to hinder gameplay at all — it's just a gun that can play music. 
The Music Legend bundle might seem like the first of its kind, but it actually adds to the list of tune-touting guns. In December 2020, the ModernWarzone fan account on Twitter reported the existence of neon blue cassette-playing KSP-45 that plays various "Call of Duty" tunes, including the "115 Zombies Easter Egg" song by Elena Siegman. Even so, this is the first gun to closely resemble a keytar, and that's something to celebrate.
Although it isn't super popular with every "CoD" player, this unexpected keytar proves that the designers have a sense of humor. After all, this is the most 80s weapon possible, and it perfectly fits the new "Call of Duty" setting.