The Last Of Us 2 Just Got A Major Update For Free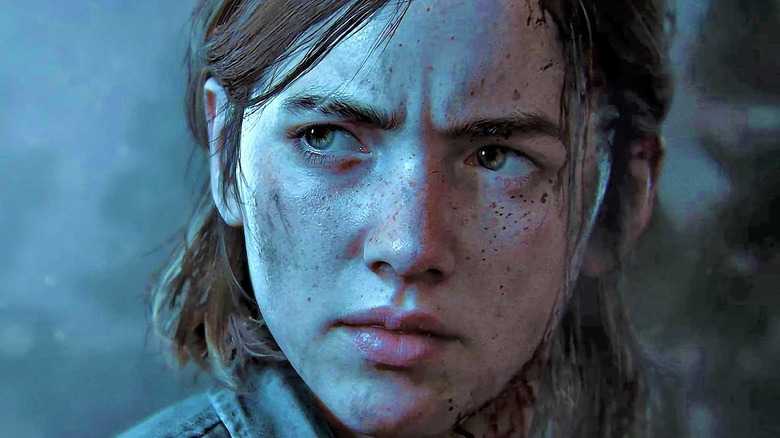 Do you like "The Last of Us?" Do you like free things? If so, you're in luck. Over on the PlayStation Blog, Naughty Dog's Director of Communications, Arne Meyer, announced that "The Last of Us Part 2" is getting a long-awaited performance patch for the PlayStation 5, free of charge.
Patch 1.08 will bring an option for 60 frames-per-second, along with "enhanced resolution, faster load times, and more." Meyer also cryptically called this update "the first step of working on the PS5," and teased more news updates to come.
The blog post is accompanied by a video showing just how realistic the game looks with the enhancements, and viewers are excited. One commenter wrote, "Faster load times is something that this game really needed." Another was impressed by the game's "sweet buttery 60fps." Perhaps the comment that best summarizes everyone's thoughts is "High key the moment we have all been waiting for."
In the post, Meyer acknowledged the high demand for this performance patch. In fact, the desire for a next-gen upgrade has been so high that a fan previously took it upon themselves to render footage demonstrating what a fully optimized version of "The Last of Us 2" on PS5 would look like.
Whatever the case may be, what matters is that fans finally received the update they've been waiting for. Now, gamers will really be able to appreciate just how detailed "The Last of Us 2" is in the highest resolution and with the smoothest animation.
Things are looking good for The Last of Us as a series
Early in April, "The Last of Us" fans received huge news that a remake of the first game is reportedly in the works. Fortunately, this means that gamers who love the series will be able to enjoy both games' stories with a look and feel powered by next-gen technology. 
But will there eventually be a third game to complete the trilogy? It certainly seems possible, especially after a tweet from a Naughty Dog executive hinted that the developer could have a new game in the works. If a third installment is in the works, this is an exciting time to be a fan of "The Last of Us" — particular for fans who have been lucky enough to snag the latest Sony console.
The latest patch is available now, so if you have the game and a PS5, you're ready to experience some next-gen goodness.