Lady Dimitrescu's Face Model Is Gorgeous In Real Life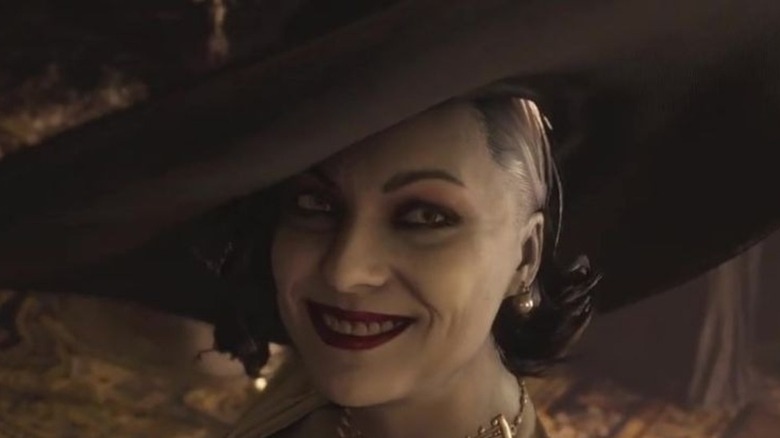 The beautiful and dangerous Lady Dimitrescu of "Resident Evil Village" continues to take the gaming world by storm. Fans watched as she conquered TikTok and left Corpse Husband speechless. Fans even got to see what the voice actors looked like while performing in mocap suits, which allow them to record the in-game movements of their larger than life characters. Now, gamers have gotten a look at Lady D's real-life face model. Unsurprisingly, she's gorgeous.
In a post on her Instagram account, actress and model Helena Mankowska officially revealed that she was the model for Lady Dimitrescu. Mankowska posted a picture of herself in Lady Dimitrescu's signature hat, silhouetted in black and white. She captioned the photo, "I am so happy that finally I can share with you the news." She added, "As you all figured out long before RE8 was even released, my face was digitally captured some time ago to portray this beloved tall vampire lady mommy character. I am super excited to be part of this wonderful community, a family that has welcomed me with so many kind words."
Fans respond to Mankowska's reveal
To celebrate the game and the character's success, it turns out that Mankowska has actually done a full photoshoot as Lady Dimitrescu, and even enlisted a team of professionals to help get her photo ready and as similar to the vampire lord as possible. 
In another photo, which shows Mankowska as a laughing, joyous Lady Dimitrescu, Mankowska said, "You make me laugh...of joy! I'm so thankful for your support and positive energy these few days. This photo I think is the moment many of you have been expecting, I hope you like it." Unsurprisingly, people did like it.
One fan commented, "Such a cool lady. Am I dreaming?" Another commended Mankowska for her "power and presence." Many more Lady Dimitrescu lovers simply commented with emoji hearts and smiley faces, showing their adoration for Mankowska's portrayal of their favorite "Village" character.
In an Instagram story on her official account, Mankowska thanked fans for sending her such lovely fan art, and commented that she's overwhelmed by the amount of support she's received since revealing the fact that she's Dimitrescu's model.
Fans want to know as much information about Lady Dimitrescu as they can, and the knowledge that her face model is just as beautiful in real life as in the game has sent gamers into a frenzy. With an army of memes, an imposing stature, and hungry fans, Lady Dimitrescu is poised to become one of the most notorious "Resident Evil" villains ever. Sorry, Mr. X.