PlayStation's New T-Shirt Is Pricier Than Its Consoles
Sony has just dropped its most recent collaboration in a streak of fashion-friendly merch with luxury brand Balenciaga. Earlier this week, Balenciaga listed items for the PlayStation 5-based line, the fittingly-named PlayStation x Balenciaga. While the line certainly looks impressive, the prices are certainly steep.
Advertisement
Balenciaga typically features minimalist, text-only designs for its tees and sweatshirts. As such, the PlayStation collab features two T-shirts and a hoodie decorated with signature PlayStation symbols, "Balenciaga" written in an unmistakable PlayStation font, and "Nov 2020" to reference the PlayStation 5's launch date. Markings include the PS5 logo stamped on the front and back of the shirt, and controller buttons around the sleeves and back.
Gaming and streetwear collaborations are nothing new, of course. Just earlier this year, Sony showed off some killer electric blue-accented kicks with a special edition Paul George + PlayStation PG5 color scheme. Travis Scott, professional rapper and one of Sony's strategic creative partners, also collaborated with Nike to release PlayStation-themed Dunk Lows. 
Advertisement
However, while those other items cost relatively manageable amounts, the prices for PlayStation x Balenciaga merch might be too outrageous for the average gamer. T-shirts cost $675, and the hoodie costs even more at $875. That's right; both of these items cost more than the actual PS5 consoles (around $400 for the Digital Edition and $500 for the standard console). 
To be fair, these prices are only slightly higher than usual for Balenciaga shirts, which regularly sell for $400 or more.
Looking this good isn't cheap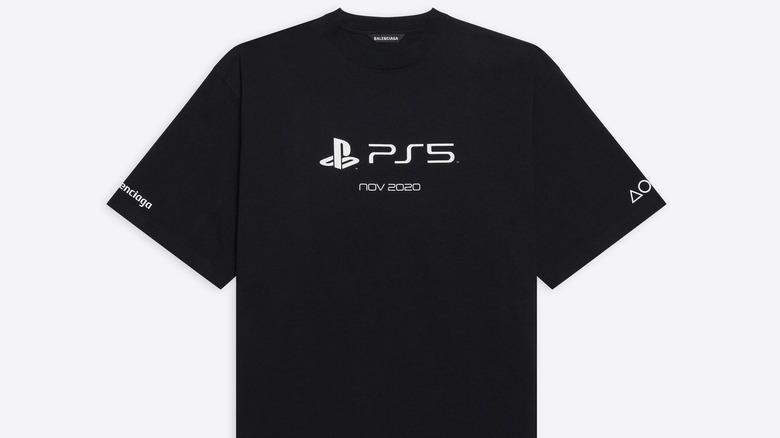 Balenciaga
The easy solution to facing down an expensive item is to not buy it in the first place. However, as Kotaku has pointed out, the timing of these exorbitantly-priced shirts feels a bit tone-deaf, especially considering pandemic-related income problems and the fact that PS5 consoles aren't even readily available in stores yet. In fact, PS5 production likely won't increase until mid to late 2021 because of the continuing semiconductor shortage.
Advertisement
Not that it matters. Despite the questionable timing, the hefty price tag hasn't seemed to stop fans from shelling out for the limited-edition line. Since the official Balaneiga announcement, the largest sizes for both T-shirts and hoodie have already sold out.
For fans who want a budget-friendly option, Sony actually sells its own PlayStation clothing at a much more reasonable price, and with more variety between text-based and graphic tees. These T-shirts cost closer to $20 and still sport relatively sleek and minimalist designs. 
Balenciaga likely won't be the last gaming and fashion industry collab, but it probably is one of the most pricey in recent history. Games have made their way into mainstream clothings brands in the past, like with Levi's Pokémon collection, at much more affordable prices. Hopefully the next drop is less harsh on fans' wallets.
Advertisement