Why Logan Paul's Pokemon Card Just Became More Expensive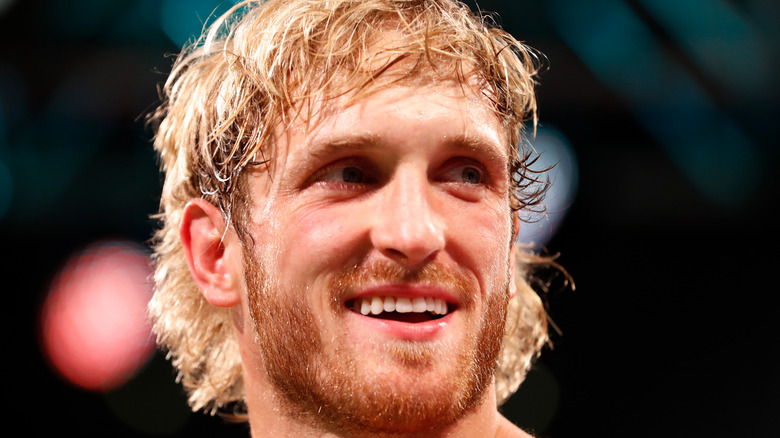 Cliff Hawkins/Getty Images
On June 6, two unlikely combatants finally met in the ring, face to face. Controversial YouTuber and Pokemon card collector Logan Paul and former pro boxer Floyd Mayweather duked it out in the boxing ring for an exhibition match at Miami's Hard Rock Stadium. As reported by ESPN, the match was not judged and concluded with no victor, nor were there any knockouts — which some took as a bit of a copout, particularly given how hyped this match had become.
Advertisement
However, for fans of a certain Nintendo franchise that charges players with catching 'em all, there was one particular bright spot to the evening: When Logan Paul came out for the bout, he was wearing none other than a first edition Charizard card from the "Pokemon" Trading Card Game — as a necklace.
Spectators spotted the card right away. Merryweather Comics excitedly tweeted, "LOGAN IS WEARING HIS CHARIZARD CARD." Meanwhile, YouTuber and podcaster maxmoefoe asked a truly practical question: "Does Mayweather get to keep the Charizard when he wins?"
Before any punches were thrown, Charizard had already become the star of the night. Paul seemed to agree with the hype, and he had some interesting things to say about the card after the match.
Advertisement
Logan Paul's "million dollar card"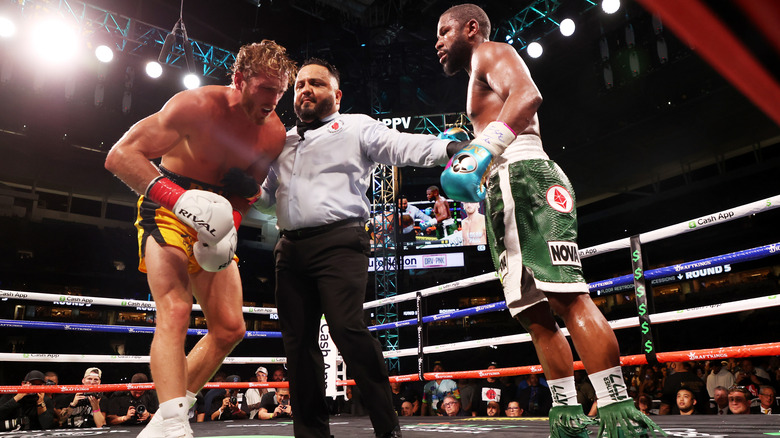 Cliff Hawkins/Getty Images
During the post-fight press conference, Paul and Mayweather fielded multiple questions regarding the outcome of the match, how they felt in the heat of battle, and what they have coming next in their careers. Naturally, one reporter finally asked Paul what the heck was around his neck.
Advertisement
Logan Paul responded, "This is a Pokemon card. It's a BGS 10 Charizard, first edition Charizard. It's one of three in the world. It is my prized possession. Ever since I got this graded at a ten, the momentum in my life has been crazy. It's my good luck charm."
When asked to tell the crowd how much the card is worth, Paul said, "Estimated value? I mean now, s***, this is a million-dollar card, baby. This is the card I walked out [with] to the Floyd Mayweather fight. This is a million-dollar card." He then held the card up, showing off its iced-out frame and chain, and told the assembled photographers to take a close-up shot of it, much to the amusement of the press.
Considering the fact that a renewed Pokemon card craze has been sweeping the nation, forcing major chains like Target and McDonald's to change their rules to accommodate for rabid fans, Paul might not be too far off. The Charizard he brought to the fight was already worth a pretty penny. After being attached to a huge pop culture event like this fight — regardless of how fans felt about the match itself — the card's significance and value have certainly been increased. If Paul ever decides to part ways with his "good luck charm," he stands to make a good bit of money from it.
Advertisement