Elden Ring Creator's Comment Has Fans Scratching Their Heads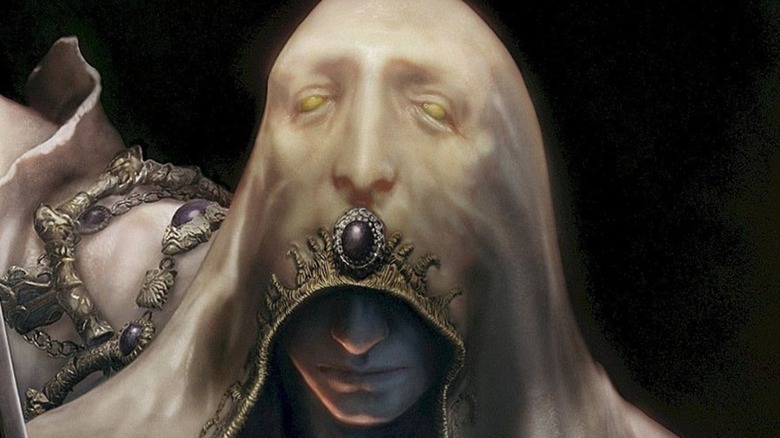 After years of little to no details about the progress of FromSoftware's newest title, "Elden Ring," fans finally got a full trailer, actual gameplay details, and even a concrete release date for the game the internet's been waiting for. Just as all that information arrived, famed fantasy author and "Elden Ring" collaborator Geroge R.R. Martin made a media appearance where he discussed the game — and made things a bit more confusing for fans.
In a clip shared on Twitter from an interview with Chicago PBS station WTTW, Martin says, "The game is called 'Elden Ring' and it's a sequel to a video game that came out a few years ago called 'Dark Souls.'" It has previously been indicated that "Elden Ring" would be a spiritual successor to the legendary trilogy of action RPGs, but would otherwise be set in a separate open world, so this description is certainly surprising. Not only that, but there have already been sequels to "Dark Souls," so what's the deal?
To be fair, the author behind the famed "Game of Thrones" novels made his remarks in a decidedly non-gaming-related media appearance, and he made it very clear that he was out of the loop in regards to the game's continued development cycle. Of course, that hasn't stopped fans from speculating whether some big surprises are waiting for them in "Elden RIng" — and wondering what George R.R. Martin has been doing with his time.
George R.R. Martin admits he has not been involved with Elden Rings in 'several years'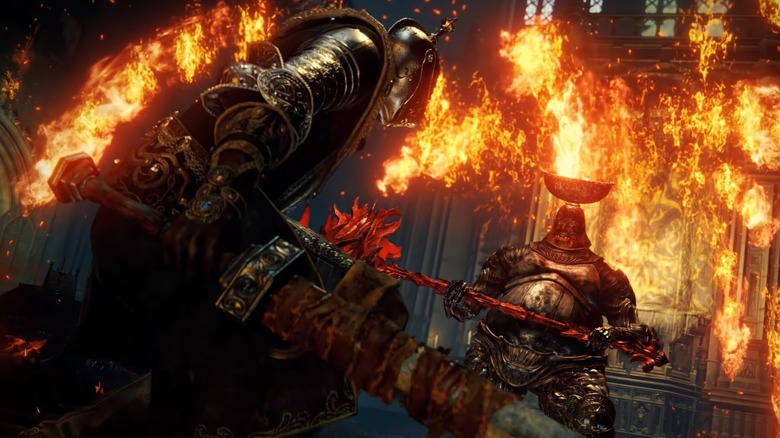 Martin made his comments regarding "Elden Ring" with WTTW after visiting his alumni, the Northwestern Medill School of Journalism. After he described the game as a sequel, Martin mentioned, "My work on it was actually done years ago. These games, they're like movies, they take a long time to develop."
Martin goes on to describe his involvement with "Elden Ring," explaining, "Basically they wanted a world created to set the game in, they wanted worldbuilding." He then states that after he had crafted a stage and some mythology for the game, "They took it from there." He also mentioned, "I'll be as excited as anyone else to see it," when "Elden Ring" is finally released.
Considering that George R.R. Martin has been disconnected from the project for some time and that he was hired to create an all-new world for the game, it is likely that he is simply misstated the game's relationship to "Dark Souls." However, fans on Twitter have wondered if maybe he had accidentally leaked an unannounced connection. Others just enjoyed the confusion.
Meanwhile, gamers and media outlets like Den of Geek have wondered if Martin's long-awaited book, "The Winds of Winter," was delayed because of Martin's involvement with "Elden Ring." It seems that gamers and "Game of Thrones" fans alike now know that this is not the case.