The Hilarious Way Dr Disrespect Returned To Twitch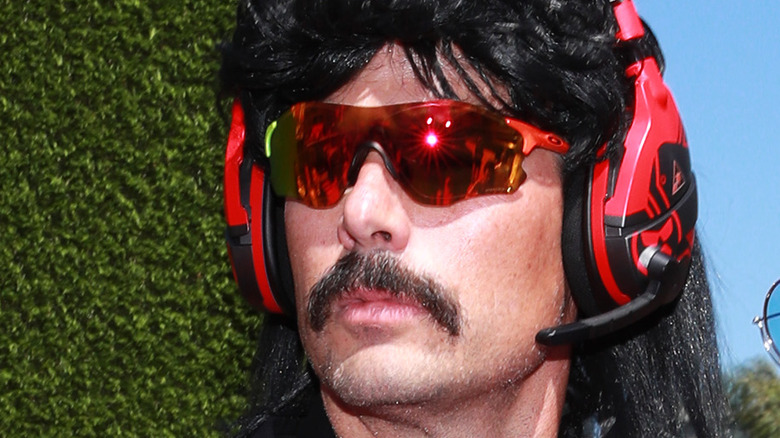 Rich Fury/Getty Images
Even though Dr Disrespect can't physically return to Twitch anytime soon, that doesn't mean that streamers on the platform have forgotten about him, nor does it mean that he's not still there in spirit. Even though the Doc dropped hints as to why he was banned in the past, the situation remains a mystery. Fans of the Two Time Champion have attempted to keep his presence strong on Twitch by incorporating Dr Disrespect's character into games he doesn't typically play, like "GTA," but one streamer took his tribute to a new level. He transformed into the Doc himself. 
ZLaner began playing "Warzone" with Dr Disrespect in 2020, and the duo became an unstoppable team. Unfortunately, Dr Disrespect's Twitch ban makes participating in co-streamed matches difficult for the Doc, as he can't appear on Twitch at all. After getting banned from a prominent "Warzone" tournament earlier in the year, Dr Disrespect found out that he also couldn't participate in the World Series of "Warzone" event because it aired, you guessed it, on Twitch.
Enter Dr Zisrespect
To celebrate his "Warzone" partner, ZLaner cosplayed as the Doc during the World Series of "Warzone" on Twitch. ZLaner appeared with the Doc's signature bushy mustache, a curly black wig, and dark shades. "We had to put a little respect on somebody's name, someone that we all may know that can't really do this himself over here, but we're going to be doing it here today for him," ZLaner said. "We're going to have a phenomenal day today, folks, regardless of what platform we're on."
Throughout the performance, ZLaner affected the Doc's signature voice, lowering his pitch to sound more gravelly than usual. ZLaner said that the act was "stickin it to the man," and it's easy for fans to see why. Since ZLaner isn't banned from Twitch, he can stream there. However, he primarily streams on Facebook Gaming, so he didn't have much to lose from pretending to be his pal on air. It seemed like this was ZLaner's way of letting Twitch know that fans aren't pleased the Doc has been banned for so long without explanation or chance at participating in events. 
ZLaner eventually took off the outfit, returning to his normal look. However, before signing off, he told fans to let him know if they enjoyed seeing "Dr Zisrespect." Of course, ZLaner's viewers loved the homage to his infamous teammate, and immediately declared ZLaner the greatest of all time by spamming the chat with goat emojis. Even though the Doc can't participate in Twitch events, it's clear that there's still a lot of love for him among the platform's users.