Skyward Sword Fixes Half Of Its Annoying Camera Problem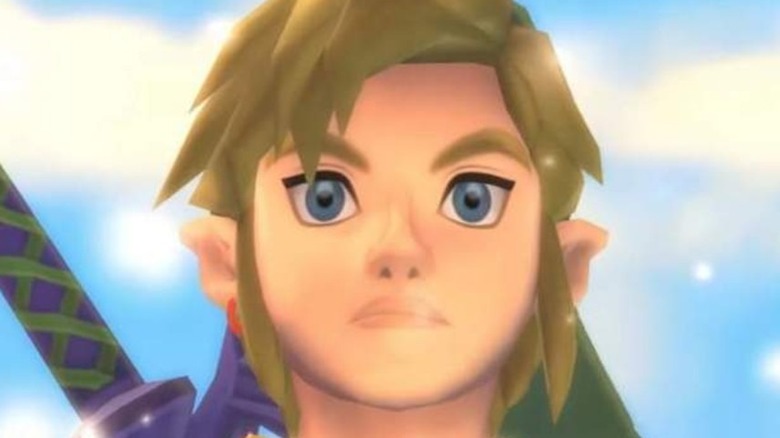 Earlier this year, Nintendo announced "Skyward Sword HD" to mixed reactions, but the game has tried to correct many of the original's missteps. "Skyward Sword HD" will attempt to correct the original release's faulty motion controls by offering a new control scheme and updated graphics that will hopefully soothe even the most irritated fan. However, gamers have been waiting to see how Nintendo handled one specific issue from the original "Skyward Sword."
The immovable camera in "Skyward Sword" has pained gamers for years, particularly when it would get stuck focusing on something in the wrong direction. The fixed angles also occasionally made navigating the world a complex task. For the new Switch release, Nintendo has attempted to correct these issues by creating a free-floating camera option. The official "Zelda" Twitter account posted a video of how the camera in "Skyward Sword HD" operates, demonstrating that players can observe the world around them by using the R-stick on the right Joy-Con or the Pro Controller.
The new fix sounded great to many fans — except for one small issue. As pointed out by Kotaku, the right joystick serves a critical role in playing "Skyward Sword HD." Because "Skyward Sword HD" will offer manual alternatives to the original's motion controls, the right joystick also determines which direction Link swings his sword. Players can swing the sword with the press of a button, but using this control scheme means that changing the camera in battle won't be much of an option.
Amiibo woes and uncertainty
Even though these new additions seem to be getting in the way of one another, many fans voiced enthusiastic support for the new feature. One gamer tweeted, "That was honestly one of the features I was really hoping to get added." Another said, "I was not at all interested in the remake until now, but good camera controls? I might give this game another go." A maneuverable camera may seem like a small quality of life improvement, but it's likely to add a lot of enjoyment for some players.
It's still unclear how players will take to the new and improved camera controls will work in "Skyward Sword HD." If players cannot manipulate the camera angle in battle while using button-based controls, some fans might interpret the change as a statement on the superiority of motion controls. Gamers will have to wait and experience the game in action on July 16. 
In the meantime, fans can take comfort in the fact that "Skyward Sword HD" is getting solid reviews from critics.