This Assassin's Creed Valhalla Mini-Game Could Become Real Life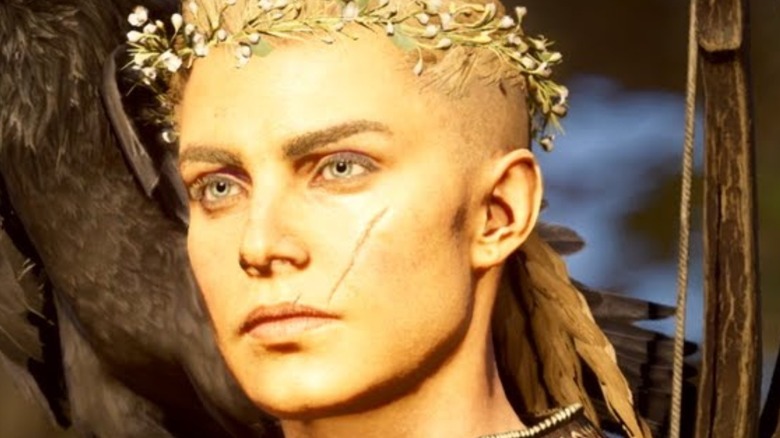 Over the franchise's nearly 15-year history, the "Assassin's Creed" games have transformed from period-specific, action-stealth titles to open-world simulators that bring bygone eras to life. As the scope of individual entries in the series has widened, the focus has moved from a gameplay loop consisting solely of combat and exploration to one that includes faction building, deep character exploration, and even some fun mini-games.
One of those mini-games, a sort of Viking Yahtzee distraction called Orlog from "Assassin's Creed Valhalla," looks like it will cross over with reality after a successful Kickstarter debut. The campaign was created by PureArts, a company that makes high-end figurines and miniatures for games such as "Cyberpunk 2077," "Dark Souls," and various "Assassin's Creed" titles in partnership with Ubisoft.
PureArts previously created and sold a Deluxe Edition Orlog Dice Game set that retailed for $200, while the Kickstarter campaign is focused on creating a version that sells for a far more affordable $35. While the company and Ubisoft may have had some idea of the game's appeal for fans, the response seems to have surprised everyone involved. Here's how this Kickstarter success is bringing Orlog into the real world.
The Orlog Kickstarter hit its goals in just minutes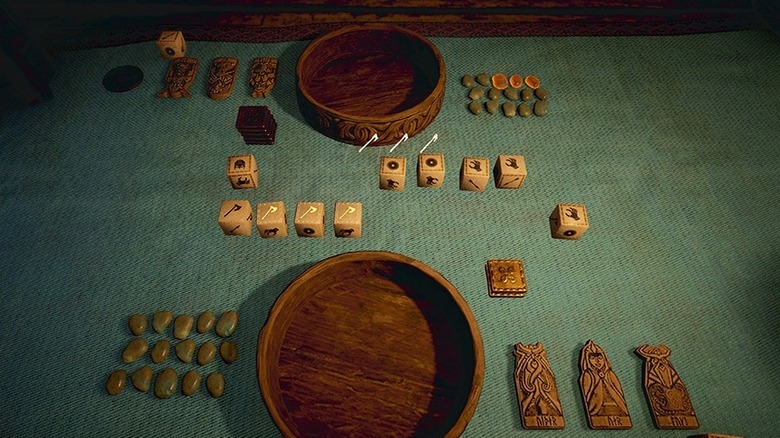 Enthusiasm from fans for the spin-off dice game is so high that the Kickstarter project met its funding goal of CA$75,000 within just 35 minutes according to a developer update. Within the hour, the campaign completed its first stretch goal of CA$100,000 and, by the following morning, the campaign reached the CA$300,000 mark.
PureArts posted a tutorial video on YouTube that lays out the rules of Orlog for anyone who hasn't experienced it yet. Players roll customized dice, which will now come with a glow-in-the-dark option thanks to a successful stretch goal, and try to put together a roll that will either deal damage to an opponent or defend themselves. Fans on Reddit and critics have compared the game favorably to "The Witcher 3" spin-off tabletop game Gwent, which went offline for consoles in 2020.
With this much energy and money now behind the project, it is almost a sure thing that gamers will have a chance to play Orlog against friends with their own specialized dice sets soon. On the Kickstarter's FAQ, PureArts notes that the Kickstarter ends on July 27 and that if everything goes as planned, Orlog sets will start shipping out in December 2021 to arrive in time for the holidays — possibly before the next "Assassin's Creed" game releases.