The Embarrassing Reason DJ Khaled Didn't Recognize An Xbox
Shutterstock
Let's be honest, both the Xbox Series X and Series S were memed heavily for their appearance, with Microsoft itself even getting in on the memes. While the design of the Series S wasn't the best or worst thing about the system, the odd look led to plenty of jokes online. Now, DJ Khaled has jumped into the mix with either a well-placed quip or an embarrassing mistake.
Earlier this week, DJ Khaled shared an Instagram Story that showed him asking "What is this, a speaker?" while looking at an Xbox Series S. A fan also uploaded the clip on YouTube for the rest of the internet's enjoyment.
Game Rant explained that DJ Khaled was in the process of opening a PR package from Xbox and Lebron James related to "Space Jam: A New Legacy." In the video, you can see the Space Jam x Lebron 18 Low 'Wile E. x Roadrunner' sneakers, a custom Xbox controller, a trading card of Bugs Bunny, and the infamous "speaker" itself (a.k.a. the Series S).
So, was DJ Khaled serious when he didn't recognize the console? Considering the contents of the PR package, it wouldn't have been that big of a stretch to think that a speaker would be included. On the other hand, the Xbox Series S is a highly publicized gaming console.
Fans question whether DJ Khaled was in on the joke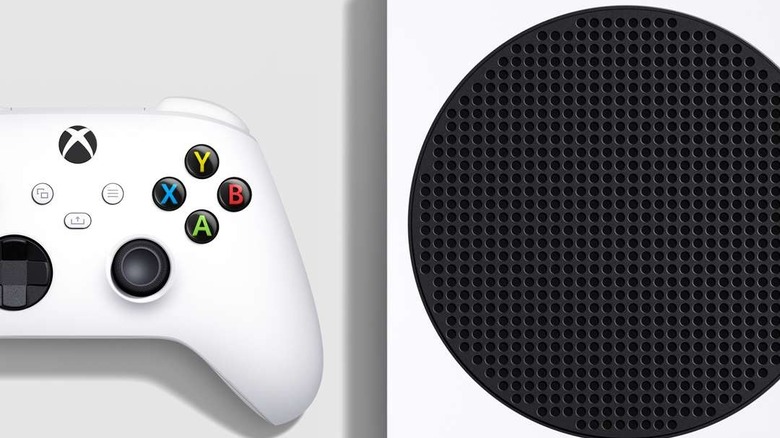 Some fans took to Twitter to share their reactions to the video and assumptions about whether or not DJ Khaled was being serious.
User Wicked James thought Khaled was legitimately confused, but defended the artist by saying that the Series S "really doesn't look like a console at first sight." Another user brought up the fact that not everyone would immediately recognize the console because "the size alone ... [makes] you believe it's not a console." One user, @No_Limit_Gamer, took the stance that DJ Khaled was definitely joking. LizardKingz agreed, saying that "he was taking shots or trolling the Xbox design."
The clip brought a ton of attention to the system and one fan on Twitter even suggested it was all clever marketing ploy orchestrated by Xbox. Another joked that DJ Khaled probably "calls the PS5 a humidifier."
The true nature of DJ Khaled's unboxing video remains up for debate, but it's pretty funny regardless. Who knows, maybe Microsoft will get in on the joke again? After all, the company sent Snoop Dogg a fridge for his birthday — maybe it'll send DJ Khaled a speaker.