Will The New Nintendo Switch Have Bluetooth?
Fans felt underwhelmed by the Nintendo Switch OLED, to say the least. It didn't live up to the standards of the fandom's imagined Nintendo Switch Pro with 4K gaming and other next-gen jazz. However, it's still an upgrade that appealed to portable gaming fans. Some curious onlookers might wonder if the console is really much of an upgrade from the original. 
Sure, the OLED model offers a bigger, brighter handheld gaming experience with its 7-inch screen, enhanced audio, and 64 GB of internal storage. It also adds a LAN port, which can improve connectivity for games like "Super Smash Bros. Ultimate." However, the company didn't mention anything about Bluetooth capabilities. So, does it have Bluetooth?
Technically, yes. The Nintendo Switch OLED does have Bluetooth. In fact, even the old Nintendo Switch has Bluetooth capabilities. You can find FAQs mentioning the connectivity on Nintendo's website, but it's not the kind of Bluetooth you're thinking of. 
Most people think of Bluetooth as a technological capability to connect with any wireless device. The Nintendo Switch can't use all Bluetooth devices, but it can use certain first-party accessories. Wireless interactions like waving around Joy-Cons and mashing buttons on a Nintendo Switch Pro Controller are all accomplished through Bluetooth. However, the Nintendo Switch OLED (or otherwise) doesn't use Bluetooth for accessories like headphones.
The new Switch doesn't REALLY have Bluetooth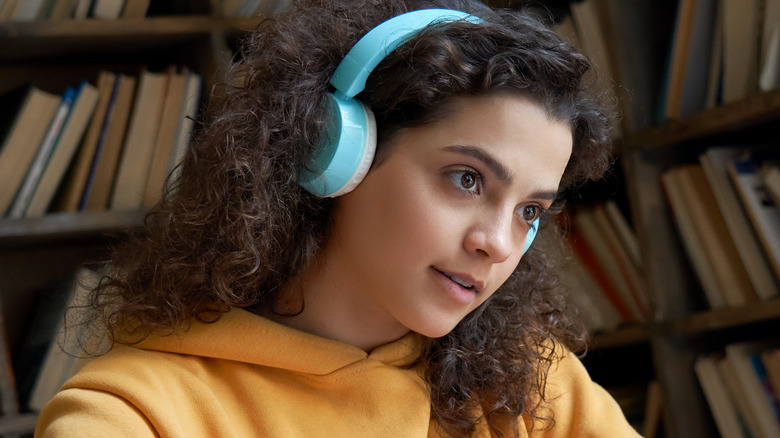 Shutterstock
Consumers often think of audio support and third-party accessories when it comes to Bluetooth. Nintendo wireless accessories should work with the new Switch, but accessories not made specifically for the console may not. Unfortunately, the Nintendo Switch doesn't even have its own wireless headset. 
Tom's Guide reported on a Nintendo software update that added audio support to its Bluetooth capabilities in April 2021. However, the source highlighted that this feature wasn't actually in use and might never be used.
This isn't all that unusual, though. Even the Xbox Series X|S and PlayStation 5 don't implement native Bluetooth. Digital Trends and Windows Central are just a couple of publications that point out the next-gen consoles' lack of Bluetooth compatibility with third-party devices. Microsoft and Sony sell special Bluetooth gaming headsets for their consoles (like Pulse Headphones for the PS5). However, any old headset won't work the same way as a first-party one. Apparently, all Bluetooth isn't created equal. So, though it might seem primitive to lack native Bluetooth, it's still a feature missing on most consoles.
Sorry, wireless listening fans. It looks Switch players will need to tolerate headphone jacks for a bit longer or get creative with fancy USB transmitters. At least the Nintendo Switch OLED offers an easier on the eyes experience.