Rocket League Just Crossed Over With A Classic Spy Movie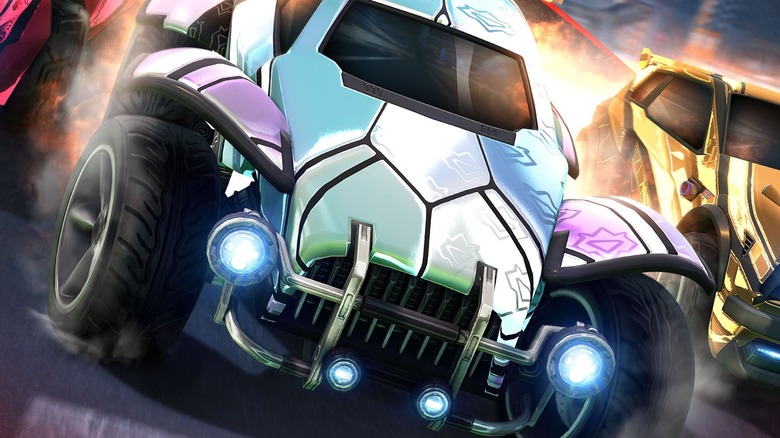 "Rocket League" developer Psyonix just announced that an iconic car from the "James Bond" films is available to purchase in-game.
In a blog post, Psyonix revealed that, as of July 29, the 1963 Aston Martin DB5 from "Goldfinger" is available in "Rocket League" for a limited time. The bundle includes the car (which has rocket boost and an Octane hitbox,) Silver Birch Paint Finish, unique Engine Audio, 007's Aston Martin DB5 wheels, and a Reel Life Decal. The bundle costs 1,100 Credits, which will set you back $10 USD. It's important to note that you can only equip the items in the bundle on the Aston Martin and the Aston Martin "cannot be customized with all item types."
The Aston Martin DB5 has a storied history in the "James Bond" franchise. The vehicle originally featured in "Goldfinger" and is considered the third Bond car. It has since made an appearance in numerous 007 adventures, including "GoldenEye," "Tomorrow Never Dies," "Casino Royale," and "Skyfall." It's also set to appear in the upcoming film "No Time To Die."
"Bond will declassify more of his garage later this year, so stay tuned for more mission briefings," reads the final sentence of the blog post, indicating even more spy cars will make their way onto the Soccar pitch. The "Rocket League" and "James Bond" crossover seems to just be getting started.
James Bond is not Rocket League's first crossover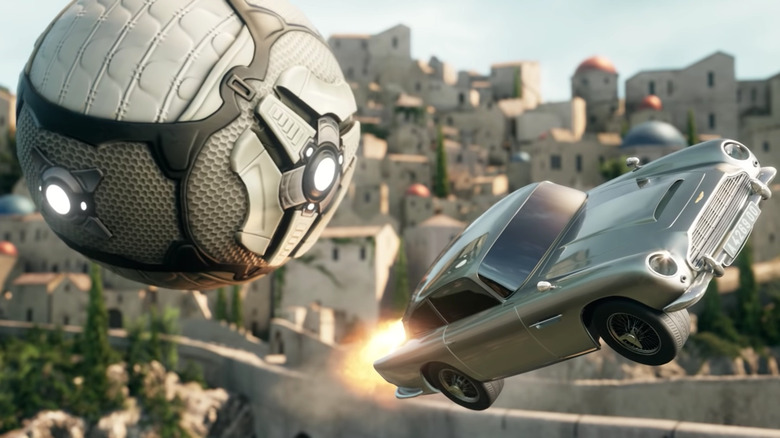 It sounds like it's almost a sure thing that "Rocket League" will have at least a few more 007 cars coming soon, potentially leading up to the release of "No Time To Die" on October 8. It's even possible that the last vehicle added to "Rocket League" will be one featured in the new movie, but only time will tell.
"Rocket League" has a long history of crossover events with other properties, and has even included vehicles like the Batmobile. The king of video game crossovers, "Fortnite" developer Epic Games, acquired Psyonix in 2019. The move sparked significant backlash, leading to a review bomb campaign on Steam.
The recent "Rocket League" Summer Road Trip added a number of iconic cars from movies, TV, and real-life for limited time purchase. The event included the Ford F-150, K.I.T.T. from "Knight Rider," the DeLorean from "Back to the Future," and a "Jurassic World" Jeep Wrangler. It's possible your favorite car might just join the game at some point or another.