Ariana Grande's Fortnite Rift Tour Look Revealed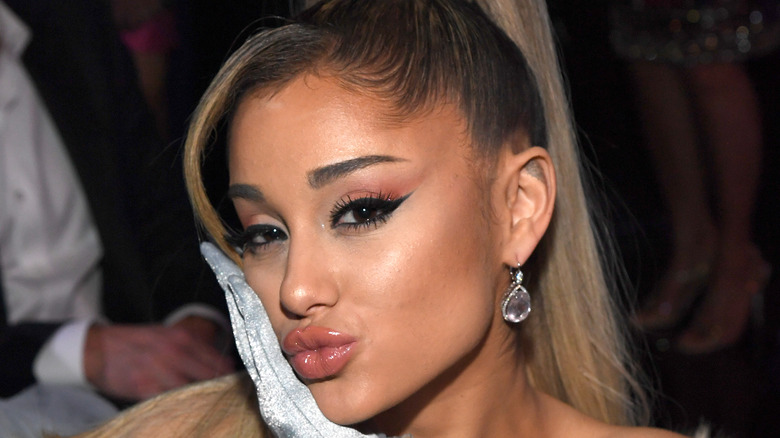 Kevin Mazur/Getty Images
In the future, wizened grandparents might tell long stories of where they were when they saw Travis Scott perform in "Fortnite." The battle royale game is working to change the face of the concert industry, and after successful outings with acts like Scott and Marshmello, "Fortnite" has officially announced a collaboration with an even bigger star.
"Fortnite" teased fans with a mysterious announcement for the Rift Tour, which will feature musical performances and special quests from August 6-8. Many gamers suspected that Ariana Grande, a pop star with more hits than fans can count, would be appearing in "Fortnite," headlining the Rift Tour. It turns out that those rumors were true, and the singer is bringing her own unique sense of style to the game.
Grande herself shared a sneak peek of her "Fortnite" skin on her Instagram. The avatar featured Grande's iconic high ponytail, as well as a short dress and boots made out of iridescent gems, some of which floated midair next to the singer. Grande's avatar also had ethereal white eyes, giving the singer an extraterrestrial feel. 
A second preview showed the brown-haired Grande avatar switched out for a version with white and purple hair. Grande's second avatar looks more reminiscent of something the singer might wear on stage, sporting a skater skirt and halter top with high boots, all colored in a shiny, silver tone. The second avatar also features human eyes and Grande's unmistakable bubbly, expressive face.
Luckily for fans of the singer, they'll soon be able to dress up like Ariana in the game.
Grande joins the Icon Series
A third teaser shows the more casual Grande skin in action, standing on a beach while a colorful, sunglasses-wearing pig bobs its head. Of course, the pig is none other than Grande's pet, Piggy Smallz. Grande famously loves her pet pig and enjoys spending her millions on elaborate gifts for him, so it only made sense to include him in "Fortnite." 
A Grande-themed skin will be available to fans as part of the Icon Series. Although the cosmetic available to the public appears to have less sparkle than Grande's custom outfit she's seen rocking in the other trailers, it does feature her white and purple ponytail and cute style. Gamers can also look forward to getting their own Piggy Smallz, as the cute companion will be available as Back Bling. Skins and items from the Icon Series have to be purchased from the "Fortnite" Item Shop, but all fans that attend the Rift Tour will receive a Cuddly Cloudcruiser umbrella free of charge. Completing in-game quests can also earn gamers limited edition emoticons, graffiti spray, and loading screens.
The overall aesthetic of the Rift Tour oozes cute and cuddly, but some fans suspect that there's an eeriness waiting in the wings. One gamer said that, based on the teaser for the Rift Tour, they still expect aliens to show up and ruin the day. Another fan said that the event will likely impact the story of "Fortnite," for better or worse. After watching the galaxy-breaking teaser for the Rift Tour, "Fortnite" players think anything is possible.