The New Xbox Controller Gets An Unexpected Upgrade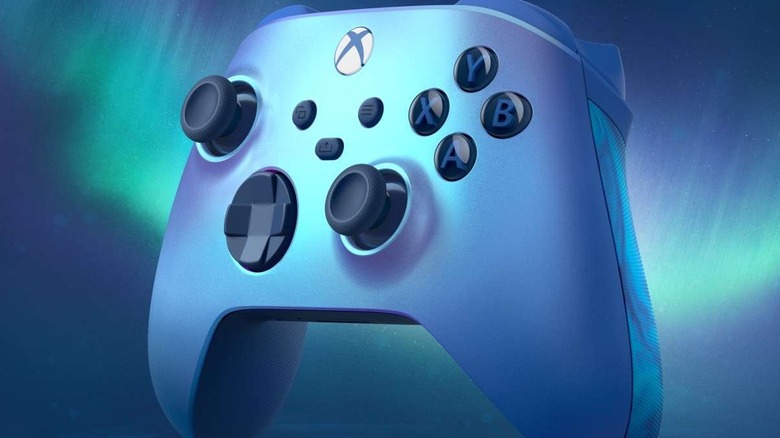 Microsoft dropped the news that it launched a special edition controller that has a brand new feature. Announced on Xbox Wire, the Xbox Series X|S Aqua Shift controller is now available for preorder and it comes with a special feature that no other special edition controller has had before it. The limited edition peripheral features sturdy rubberized side grips and a unique color swirl that's sure to draw the attention of any Xbox gamer.
Of course, Microsoft was very deliberate in stating that this is "the first Special Edition Xbox Series X|S controller," since a previous controller also featured the special grips. The Xbox Elite Series 2 controller for the Xbox One also included rubberized side grips, but the Aqua Shift controller offers the same feature without breaking the bank.
The Aqua Shift controller features a color-shifting blue shimmer, which is said to change as you look at the controller. All of the buttons and sticks share the same ocean blue color and the rubberized grips feature a swirl of light blue and blue colors as well, making sure people's eyes are drawn to the special feature. The Aqua Shift controller releases on August 31 for $70 USD, but the new rubberized grips raise a few interesting questions.
Next-gen controller features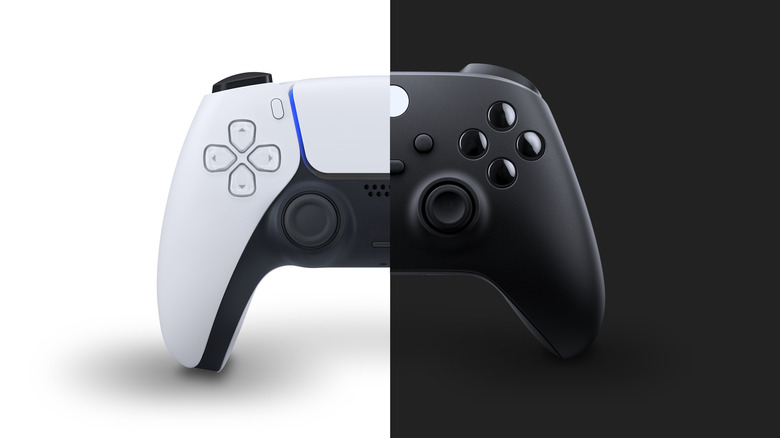 Shutterstock
The brand new special edition Aqua Shift controller for Xbox shows the difference in mentality between Xbox and PlayStation. While Xbox thought about stealing PS5 DualSense features in the past, PlayStation's consistency is the more interesting aspect. The DualSense controller is available in only three colors; red, black, and white, but all three versions have identical features. In the Microsoft store right now, there are seven different color controllers (and four different "Space Jam: A New Legacy" controllers), but now one of those controllers has a feature the rest don't, less than a year after the launch of the Xbox Series X|S.
Xbox also has the option to make a controller any color you want with the Xbox DesignLab, which returned in June with Xbox Series X|S controllers. The internet drooled over the bright controllers from the DesignLab, but you can't include rubberized grips in its customization. Even though it would need to be an upcharge of some kind, it seems odd to limit a feature to a single color of controller. While rubberized grips aren't going to impact gameplay in any significant way, it's a cool feature that shouldn't be limited to a single model.