You Can Finally Take Orders From Master Chief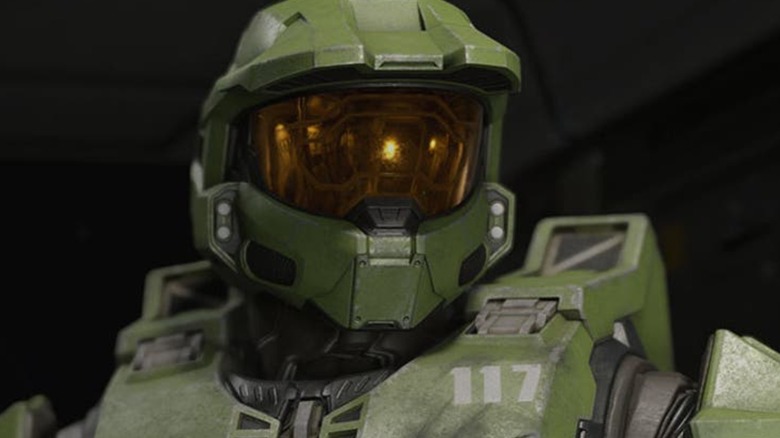 Microsoft
Almost a year after fans received the terrible news that delays would push out the next chapter in the iconic Xbox shooter, "Halo Infinite" looks like it's finally ready to land for gamers on the Series X|S, Xbox One, and PC this holiday season. Ahead of that arrival, fans can interact with the "Halo" universe in an all-new way, thanks to a crossover promotion with Waze that puts Master Chief in the driver's seat.
Anyone interested in having the Xbox's most iconic super soldier offer directions on their next outing can do so by simply changing their vehicle icon to a Warthog in the Waze app. Waze announced the promotion on its Twitter account, where it revealed that Master Chief wasn't the only character from "Halo: Infinite" added to the company's popular navigation software. Fans can also opt to switch their ride to a Covenant Ghost, at which point they will hear one of the villains from "Halo: Infinite," Escharium, chiming in when Waze has found them a better route.
While the entire crossover might seem a little gimmicky, it is ultimately one more positive sign that "Halo: Infinite" is on its way. Here's what fans need to know about Master Chief's next outing and how they can enlist him on their next Waze-enabled journey.
Waze's Halo themed navigators encourage fans to drive safely and avoid traffic
An update on Xbox Wire went into detail about what gamers can expect when they load up the Master Chief experience on Waze. While the announcement notes that the new driving directions will not take into account the Warthog's off-road capabilities or the Banshee's anti-gravity pads, it does intend to offer a safe driving experience with some heavy "Halo" flavor.
On Xbox Wire, fans can find a clip of Master Chief preparing a driver for a trip that may have galactic consequences, or they can hear Escharium complain about their second biggest pet peeve: heavy traffic. While Waze has partnered with prominent brands before, such as when the app added Morgan Freeman's voice (via Refinery29) to its navigation roster ahead of the release of "London Has Fallen," Xbox Wire notes that this is the first videogame cross-promotion that the company has set up.
Master Chief fans can add the new Waze partnership to the list of good omens that "Halo: Infinite" is on track for its still-unannounced late 2021 release date. The next chapter in the Xbox's premier franchise faced significant delays that kept it from launching alongside the Xbox Series X|S, but it made everyone jealous at E3 and the recent tech preview for Halo Insiders make it look like the game is closer than ever.