The Devastating Death Of Mercy's Voice Actor From Overwatch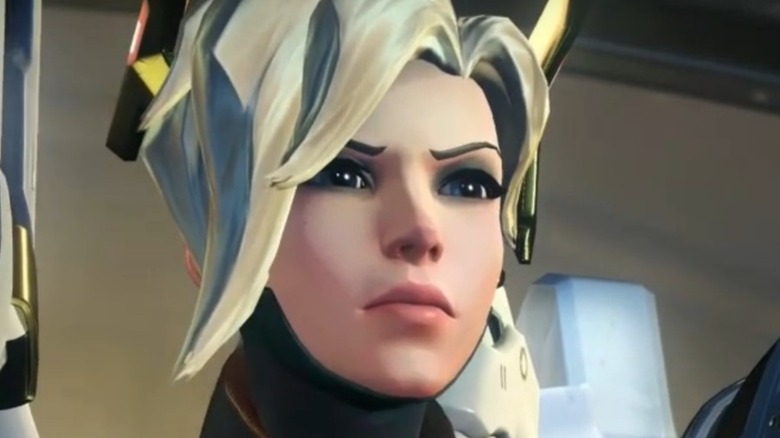 Losing beloved video game actors and developers is a heartbreaking reality. The deaths of many individuals — like early Mario voice actor Walker Boone — come as a tragic surprise to fans, resulting in an outpouring of condolences and support for their families. Arguably more devastating, however, are beloved video game industry insiders whose lives are suddenly and maliciously taken from them by another person.
"Overwatch" fans across the globe received some utterly tragic news over the weekend. As reported by Dexerto, it was announced on August 6 that renowned Brazilian voice actor Christiane Louise — perhaps best known for voicing the Portuguese version of the beloved support healer Mercy — had died at age 49.
Now, it has been reported that police have apprehended a 27-year-old man by the name of Pedro Paulo Gonçalves Vasconcellos da Costa, eyeing him as a suspect in the murder of Louise. As reported by Brazilian news outlet O Globo (translation via PC Gamer), the lead investigator claims that the suspect had initially lied about the last time that he had seen Louise, alleging that she had been traveling with her boyfriend and wouldn't return to her apartment, where she was "sheltering [da Costa]," for over two weeks.
Ultimately, however, it didn't take long for authorities to pull the truth from Paulo Gonçalves Vasconcellos da Costa.
The suspect in the murder of Christiane Louise has confessed
While details are still a bit murky, it seems the family and loved ones of Mercy's Portuguese voice actor may very well receive the justice that Christiane Louise deserves.
As reported by PC Gamer, following further questioning by authorities, suspect da Costa eventually confessed to killing Louise — stabbing her multiple times — out of self-defense. He was convinced, according to O Globo, that the voice actor was "possessed by the devil." According to authorities, the suspect was aided by his mother, Eliane Gonçalves Vasconcellos da Costa, and a currently unidentified accomplice. The three transported Louise's body in an attempt to hide it. PC Gamer notes that da Costa's mother "remains at large."
The tragedy of Christiane Louise's death is truly heartbreaking for both her family and fans of the celebrated voice actress, who's worked in the industry since the mid-'90s and provided voice work to numerous video game icons (including sassy Umbra Witch Bayonetta and Cortana of "Halo" fame). When fans received the devastating news of her death, they responded with messages both heart-warming and heart-wrenching.
Heroes Never Die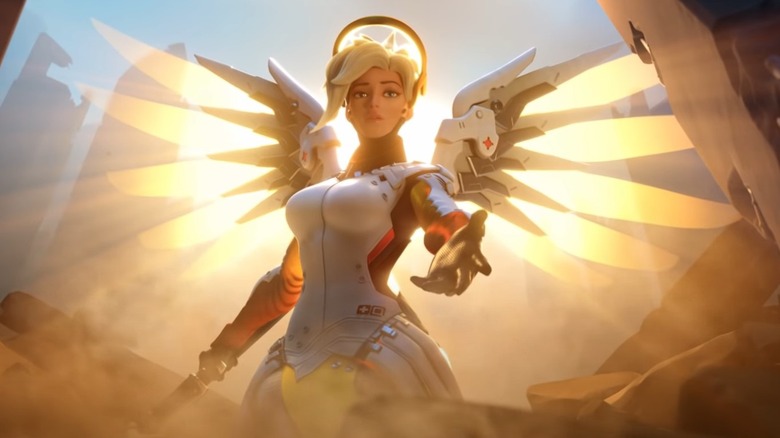 Following the revelation of Christiane Louise's murder, fans, loved ones, and fellow video game industry workers took to social media to collectively mourn the death of the veteran Brazilian voice actor. A co-worker of Louise, Mario Tupinamba, posted an image to Instagram which (translated from Portuguese) reads, "With a bleeding soul ... I communicate the departure of Christiane Louise." He added, "I love you forever."
In a series of tributes to the late voice actor, many fans took to Twitter to post tweets that simply read, "Heroes never die" — a well-known quote uttered by "Overwatch" character Mercy.
Other fans couldn't believe the news. One fan posted, "Bro say sike right now please. Don't tell me this is real." Another Twitter user assumed that Louise had died of complications from COVID-19, writing, "This hurts so bad. We all thought it was by covid or something but it was even worse. May she rest in peace. Her voice was part of my childhood and she'll always be remembered."
While an undeniable tragedy, Christiane Louise's legacy will live on in her video game voice work — and in the hearts of her legions of fans who know that heroes never die.