Twisted Metal Creator Responds To Reboot Rumors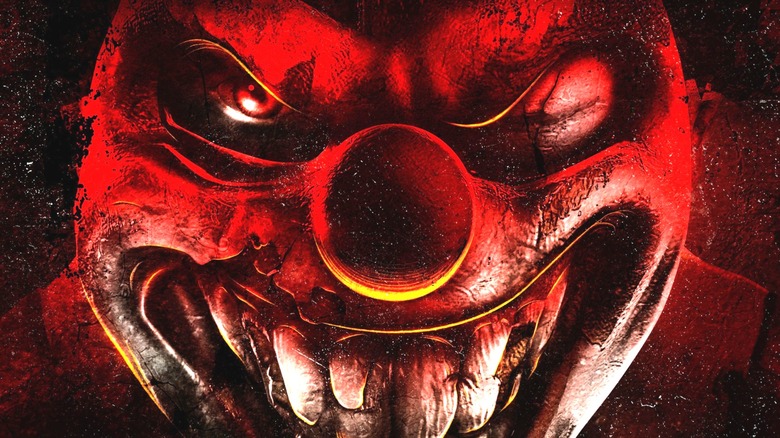 A rumor recently leaked that there may be a new "Twisted Metal" game in the works, but series director David Jaffe denies any knowledge of this. The series of vehicle-based combat games started back in 1995 and has seen iterations across the PlayStation, PS2, and PS3. 
The last completed game, simply titled "Twisted Metal" came out back in 2012. Games have come a long way since then, and the market for machine gun strapped vehicular battle royales just isn't what it used to be. It seemed like the series was dead, leaving many to wonder if they'd ever see a new "Twisted Metal" game.
Early in 2021, news of a "Twisted Metal" TV series appeared online and it started to seem like people were paying attention to Calypso's grand tournament again. Then on August 13, Tom Henderson, who has a credible track record of leaking accurate information about upcoming titles like "Call of Duty" and "Battlefield," tweeted an image of the flaming haired clown Needles Kane and his beloved ice cream truck with the caption "2023." The internet began to buzz with speculation about what Henderson's tweet could mean, ultimately inciting David Jaffe to respond.
David Jaffe denies knowledge of Twisted Metal reboot
Henderson didn't make any further statements about where he got his information from, but he has been known to use his own concept art to illustrate leaked information, like when he drew and posted images he saw in previews of "Battlefield 2042." His tweet naturally sparked excitement from "Twisted Metal" fans.
Jaffe saw the rumors as well and recently did a members-only livestream on YouTube (transcribed by VGC) where he claimed to have no knowledge of a new game. "If it's true I would be very, very hurt that PlayStation didn't ask for my input at best, or at worst, at least let me know it was happening," stated Jaffe. "These are the guys who reached out to me and hooked me up with the guys making the TV show ... I don't imagine they would cut me out of it." Jaffe has worked on nearly every "Twisted Metal" game ever made, so it makes sense that he would expect a call about any new installments in the series.
In a later reaction video, Jaffe went on to state that he wouldn't be surprised to discover that Sony wanted to make a "Twisted Metal" game without him having a hands-on role in its creation. After all, Jaffe worked on the first two "God of War" games and wasn't involved in 2018's "God of War," even though he knew the project was in development. Jaffe stated that he would be surprised to discover that they planned to make a "Twisted Metal" game without contacting him.