Pokemon Go Caves To Fan Demand Amid Backlash
Players have been in an uproar since "Pokémon Go" developer Niantic announced plans to revert its Exploration Bonus in June. This popular change allowed players to access location-specific aspects of the game from a greater distance due to the pandemic, and players weren't happy about losing it. After a good bit of backlash and organized fan action, Niantic announced that it would create a task force in August to tackle the increased distance issue, with results promised by September 1. Despite initial skepticism, fans are finally getting what they want — and need — to play their favorite mobile game safely and accessibly.
Advertisement
In a thread shared with fans on August 26 from the official "Pokémon Go" Twitter account, the team announced that while it's "looking forward to sharing our plans as a result of the task force on September 1...one thing does not have to wait!" Fans will not only get changes to help them through the pandemic: these updates are permanent. As the update outlined, "From now on, 80 meters will be the base interaction radius for PokéStops and Gyms globally." That's double the original 40-meter distance that was standard pre-pandemic.
"Pokémon Go" went on to offer its gratitude to the players who made this happen, saying, "Thank you to everyone who made your voices heard. We've heard you and understand that this has been a welcome benefit to many players. We'll share more next week." Fans reacted favorably, for a variety of reasons that might surprise the gaming community.
Advertisement
Fandom Fanfare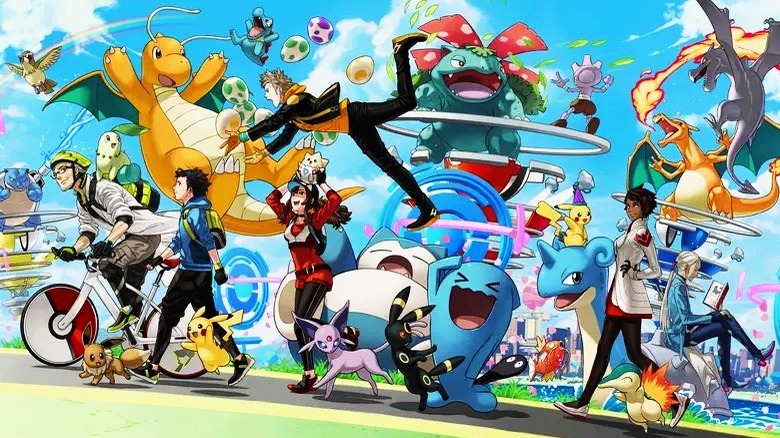 The increased gameplay distance news is both exciting and surprising to "Pokémon Go" players, especially given the ambiguity of Niantic's initial response to fan backlash. Gamers were so disillusioned by Niantic's task force formation announcement that shortly after the update was shared the hashtags #PokemonNoDay and #BoycottNiantic started spreading.
Advertisement
Given what it took to get here, fan feedback on Twitter was naturally positive. The webmaster of "Pokémon" fansite Serebii, Joe Merrick, shared his gratitude in the announcement's comments, writing, "Thank you for listening to us. It really is the best thing for the game." Overcome with joy, fan @Mrr5745 wrote, "I actually cried a little – I'm so happy!" Highlighting how meaningful the change is, fan @Amphipodiphile explained, "Thank you so much for listening to the community. I'm partially disabled and having the 80m distance has really really improved my ability to play PoGo and enjoy it!"
Amongst the celebrations and occasional contrarian complaints, some commenters are still hoping for more. As GamePress writer and editor @SwgTips wrote: "This gives some hope that September 1st won't just be '80 meters, ok done.'" In a detailed thread, fan @lordemperor_ promoted the opportunity "to remain strong and insist Niantic address the issues that they have caused or ignored since 2016," including issues like rural play opportunities, raid fixes, and unfair, inaccurate player bans among others. For now, fans can only wait and see how Niantic responds to feedback.
Advertisement