Nickelodeon Just Gave Two More Reasons To Play All-Star Brawl
"Nickelodeon All-Star Brawl" was announced back in July this year at Summer Games Fest, and Gamescom's Future Games Show added to the hype with a few more announcements. Two more characters have been confirmed as coming to the game, and it's enough to make some nostalgic Nick fans ready to click the "Buy" button.
CatDog (from their titular show) and April O'Neil from "Teenage Mutant Ninja Turtles" are joining the "All-Star Brawl" lineup, If you weren't already excited to play Patrick Star or Danny Phantom, you might be getting pumped up to battle with these stars. This was notably the announcement that the Gamescom Future Games Show ended on, which means the show's programmers were probably just as excited for these new characters.
Both characters were announced along with a quick glimpse of gameplay. CatDog brings the exact amount of chaos one could expect from two animals stuck together. Both Cat and Dog get their attacks in during different parts of the video, which could make for some interesting gameplay. Meanwhile, April O'Neil showed off some interesting weapon choices, including her camera equipment.
Players are pretty excited for these new additions, especially considering April's getting a lot of attention in general lately. After all, she's also being added to the upcoming "Teenage Mutant Ninja Turtles: Shredder's Revenge" game. However, some fans had already figured out these characters announcements before they became official.
Fans are pretty sure they know the next Nickelodeon All-Star Brawl fighters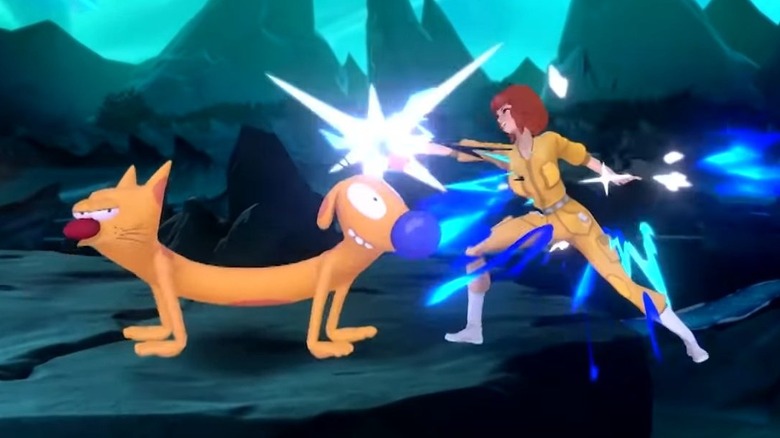 Fans have been trying to figure out all of the characters coming to "Nickelodeon All-Star Brawl" since the game was announced. Some people began guessing based on the shadows of characters on the box art for the game. Although some fans thought that April's silhouette on the cover was actually Dora the Explorer, this latest announcement puts that particular rumor to bed — for now.
Fans are already going crazy over the Nickelodeon game based on the concept alone, but the fact that it has both new and old school characters has only sweetened the deal. These additions just added to that excitement and kept the hype train going for the game, which will release at some point in 2021.
There are still other characters supposedly on the game's box art that haven't been announced yet, with some fans theorizing that the game could be adding the ever-popular Avatars Aang and Korra. The lineup of characters at launch is more than likely going to be much bigger than Nickelodeon has already teased, so don't get settled on a main character to play just yet!