Ultra Instinct Shaggy Makes His Official Mortal Kombat Debut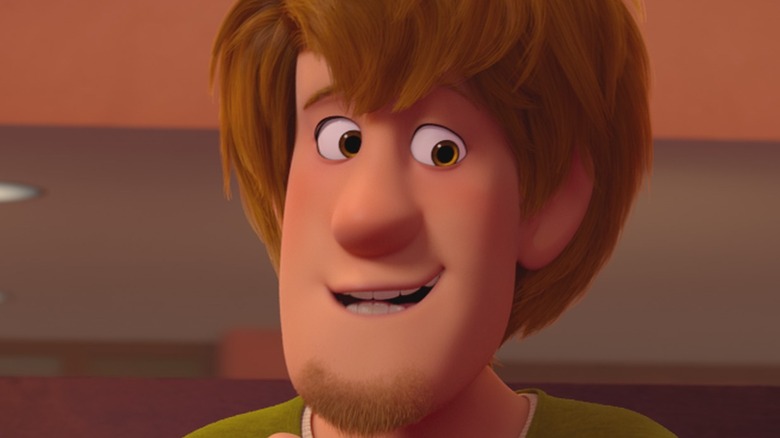 Warner Animation Group
Finally, "Mortal Kombat" and "Scooby-Doo" fans can rest easy. The two franchises have been joined at last. Some gamers might remember the 2019 petition to make the character of Shaggy an official part of the "Mortal Kombat" challenger lineup. The director of "Mortal Kombat 11," Ed Boon, responded to the petition, seemingly encouraging fans to hold out hope. Boon even teased a mock-up of Shaggy in action at one point, showing the lovable goof kneeing Scorpion in the face. 
Even though the developer of "Mortal Kombat 11" eventually sealed Shaggy's fate by saying he'd never appear in a "Mortal Kombat" game, fans didn't give up hope. Now, all that wishing has paid off. While Shaggy still hasn't appeared as a playable character in  "Mortal Kombat," he did take one step closer to the game's universe by appearing in the latest animated "Mortal Kombat" film. 
Ed Boon himself tweeted a short clip from the new "Mortal Kombat" movie, saying, "HOLY KRAP! You people were right all along!" In the clip, Shaggy appears in the clip in his frequently-memed "Ultra Instinct" form, with an eerie aura glowing around him. As noted by Know Your Meme, fans began developing Shaggy's Ultra Instinct form after a video of Shaggy fighting to a song from "Dragon Ball Super" went viral. Fans loved the mashup the strangely powerful iteration of Shaggy. 
However, the animators behind the new new "Mortal Kombat" movie have taken the meme to the next level by making it extra metatextual. The intro to the new movie paid homage to fans' love of Shaggy, but it also continued a tradition in "Mortal Kombat" animated projects.
Shaggy's cameo in Mortal Kombat: Battle of the Realms
This isn't the first time a "Mortal Kombat" animated feature has included an unexpected cameo. The first moments of "Scorpion's Revenge" showed Daffy Duck running around the Warner Bros logo, only to be pulled into it by Scorpion, who yelled his signature phrase of "Get over here!"
In "Mortal Kombat Legends: Battle of the Realms," Shaggy's "Mortal Kombat" debut mimics Daffy's cameo perfectly. This time, Scorpion jumps across the screen, practicing his sick moves. After a moment, Shaggy, swathed in an otherworldly glow, opens the Warner Bros logo and says, "Get over here, man!" before pulling Scorpion in.
Needless to say, fans of the character feel vindicated and overjoyed. One gamer tweeted a picture of Ultra Instinct Shaggy with the caption, "Like Scoob, I'm canon now!" Others saw the intro as evidence that Shaggy's on the chopping block next, and will follow the same fate as Daffy in the next "Mortal Kombat" film.
It's unclear if Shaggy will ever appear in any "Mortal Kombat" game proper (although mods featuring Shaggy have made some great games even better). It's possible that he's doomed to being the meme that never dies. Either way, fans are on board for Shaggy's latest appearance.