What The Samurai Moves In Ghost Of Tsushima Look Like In Real Life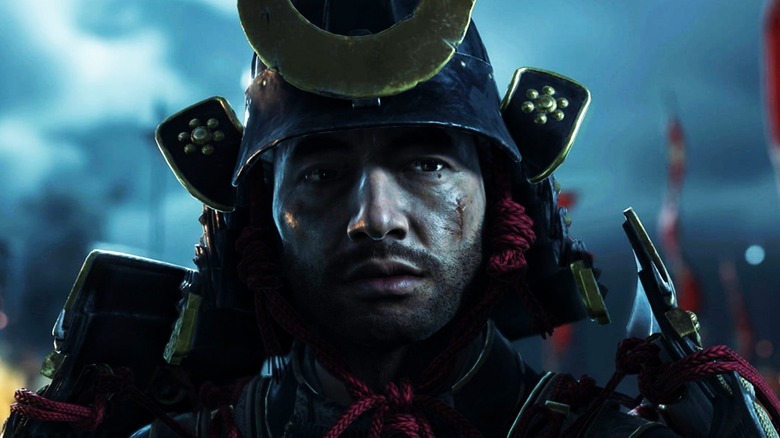 Have you ever wondered what Jin Sakai would look like performing his combat moves in real life? In gamers needed another reason to pick up the samurai action game "Ghost of Tsushima," the model for Sakai decided to show off some of those moves on YouTube.
Daisuke Tsuji, the actor and voice actor for Jin Sakai, partnered with Toru Uchikado to learn how Sakai's moves would work in real life. Uchikado taught Tsuji how to perform the moves that were used in the game. The two go through seven different movements, including the Flurry Strike attack, which Tsuji said everyone uses a lot because it's simple to press the triangle button. They even perform the Spinning Strike attack, which involves complicated spins and slashes. Despite this, Tsuji executed it perfectly by the end of the video.
While Daisuke Tsuji provided motion capture for Jin Sakai's facial expressions, he didn't do any of the stunts that were in the game. Uchikado asked him not to practice any of the moves from the game before the video either, so this was Tsuji's first attempt at combat like this in real life. Not only did the two practice the moves, but they also used them in a legendary showdown by the end.
After learning the moves, the duo dueled
While the two were learning how to perform the moves, they actually ended up choreographing an entire duel. For fun, the two performed the duel at the end of the video, and it's pretty intense. With professional video taken and sound effects added, the entire thing feels like it could've come straight from a movie — especially considering Tsuji and Sakai share a likeness.
In fact, many of the viewers felt the same. Plenty of people mentioned that the duel looked like a live-action "Ghost of Tsushima" scene considering how well the two acted and how great the video was. Fortunately, there is a live-action "Ghost of Tsushima" movie coming out sometime in the future. While there aren't too many details yet, fans do know that one is being created. Hopefully, the fight scenes live up to the standard that Tsuji and Uchikado created, or even include Tsuji himself. At the very least, https://www.svg.com/368225/arthur-morgan-actor-breaks-his-silence-on-ghost-of-tshushima-movie/ for Tsuji to reprise his role of Jin Sakai in the upcoming film.
For fans of Tsuji's sword work, "Ghost of Tsushima: Director's Cut" is worth taking a look at, especially since it includes a heartwarming feature, letting players pet various animals along the way.