TimTheTatman Responds To Soulja Boy's Sell-Out Slam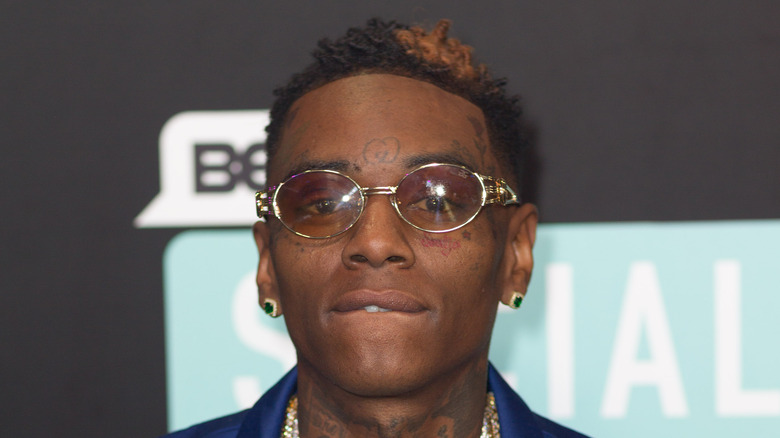 Jamie Lamor Thompson/Shutterstock
Last month, Twitch saw two major streamers leave the platform entirely: TimTheTatman and DrLupo. Both of these content creators took their audience with them to YouTube Gaming. Since then, rapper and Twitch streamer Soulja Boy has unexpectedly weighed in on the departure of these two huge streamers, saying that Tim and DrLupo "sold out" to YouTube Gaming. During a recent stream, TimTheTatman responded to Soulja Boy's accusations in a pretty surprising way.
Instead of getting offended when his chat asked him about the comments from Soulja Boy, TimTheTatman had some pretty surprising words: "Soulja can say what he says ... I'm still a fan." Apparently, Soulja Boy's song "Crank That (Soulja Boy)" was TimTheTatman's favorite high school jam. If anything, the newly-minted YouTube Gaming streamer seemed excited that Soulja Boy would even talk about him.
In reality, what Soulja Boy said wasn't too far from the truth — money definitely had a hand in influencing DrLupo and Tim's decisions to head to a new platform. However, that isn't all there is to it.
Despite Soulja Boy's comments, YouTube Gaming may prove to be a better fit for these streamers
While money was definitely a part of the reason why both TimTheTatman and DrLupo left Twitch, both of their contracts go much deeper than that. YouTube Gaming has more to offer both streamers in terms of scheduling and flexibility, which both men mentioned as a major reason why it seemed like the right fit.
After all, both streamers are family men — TimTheTatman has a wife, Alexis, and DrLupo is married to MrsDrLupo, and both have children. Both streamers now have an easier work/family life balance as a result of being able to stream on a more flexible schedule. Judging from the comments both streamers have made since making the shift to YouTube, it was never just about the money.
Fans on Twitter were quick to support TimTheTatman and DrLupo's decision to move platforms, with a few even arguing that Soulja Boy was just trying to get attention with his comments. One person quipped that the statement from Soulja Boy was "ironic," considering the game emulators that Soulja Boy has tried to sell in the past.
In fact, Soulja Boy has tried to get a console off the ground as recently as this year. The SouljaGame console was meant to have both "PlayerUnknown's Battlegrounds" and "Fortnite" on it — and its announcement was met largely with skepticism from the gaming community.