The Unexpected Way FaZe Clan Is Teaming Up With Batman
DC Comics
FaZe Clan is easily become one of the more prominent names across the realm of esports, and now the team is making a move to cross over into the comic book industry. Specifically, FaZe Clan will soon be featured in a limited-edition "Batman" comic, which will be launching on September 24, according to a teaser video from the official FaZe Clan Twitter account. The video also presents some of the merchandise, such as jerseys, that will release in tandem with the collaborative comic.
According to Hollywood Reporter, the comic is written by comics writer Josh Trujillo, who has also worked on video game adaptations such as Telltale's "Batman" and "Guardians of the Galaxy" games, and illustrated by Scot Eaton, who has previously worked on comics series such as "Batman and Robin Eternal" and "Werewolf by Night." The main cover art was illustrated by Arif Prianto and Tyler Kirkham.
The cover alone features FaZe Clan members Rain, Banks, Temperrr, and Apex, all of whom appear hyper-muscular and primed for comic book action. According to Esports Talk's Jake Lucky, fans should also expect"FaZe Adapt, Rug, and Blaze [to be] featured in the comic."
DC general manager Daniel Cherry III also released a statement about the collaboration (via Hollywood Reporter), which said, "DC is excited to partner with FaZe Clan to share this custom Batman story with their amazing gaming fans." Cherry added, "This partnership is a great opportunity to invite even more fans into the iconic DC universe." However, Cherry was not the only one excited to share the news with fans.
Part of FaZe Clan's broader cultural expansions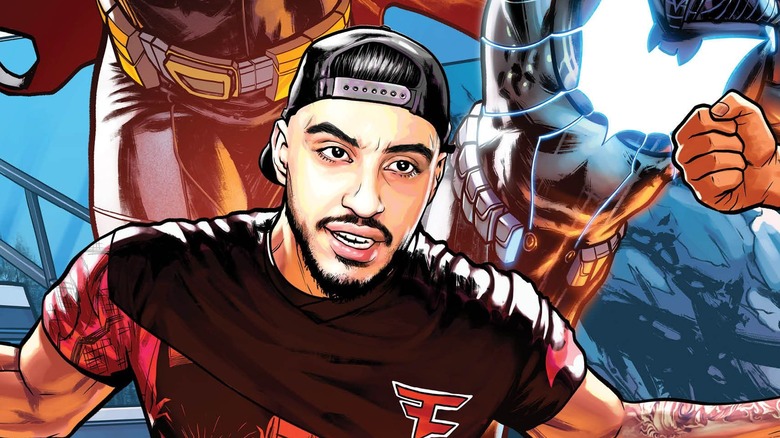 DC Comics
FaZe Rain also released a statement regarding the comic book announcement (via Hollywood Reporter), saying that the collaboration "is extremely special to us because we all grew up on Batman and DC." He added, "to see ourselves as comic book Super Heroes is a dream come true."
FaZe Clan's collaboration with DC comes nearly a year and a half after the announcement that FaZe Clan would be setting up its own in-house studio for film and television. FaZe Clan's collaboration with DC, then, seems to be one element of the organization's cultural expansion, on top of the film and TV projects being developed by the org.
While the group appears to be heading in the right direction now, there was a period of time in June and July where things were getting worse for FaZe Clan. In addition to fans blasting FaZe Clan for the involvement of some of its members in a cryptocurrency scheme, "Fortnite" also punished FaZe Sway by revoking his creator code when it became clear he was participating in account sharing.
However, the heat seems to have died down a little in the last few months. Now hardcore FaZe Clans can look forward to seeing what the esport collective brings to the table when the Dark Knight calls on them.
The Batman and FaZe Clan team-up comic will be available Sept. 24.