Spider-Man 2 Just Confirmed The Villain We All Suspected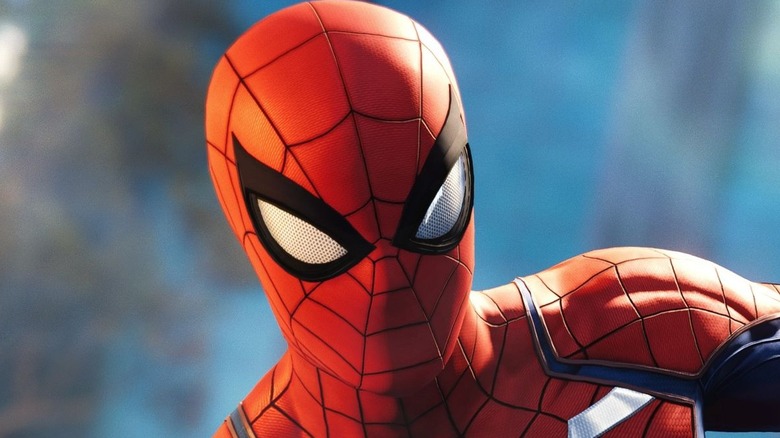 If you think you just heard what sounded like a zillion Marvel fans squealing in excitement all at once, you are not mistaken. Insomniac Games just took the opportunity to announce "Marvel's Spider-Man 2" during the Sept. 9 PlayStation Showcase livestream, and the reveal teaser has already confirmed a huge plot point that fans have been clamoring for. The one and only Venom will be featured as a major villain in this superheroic sequel to Insomniac's critically-acclaimed "Spider-Man" and 2020's "Spider-Man: Miles Morales."
The reveal teaser shows Spider-Men Peter Parker and Miles Morales throwing down with a number of villains. Peter can be seen using mechanical arms similar to his Iron Spider armor, while Miles dispatches a number of baddies with his venom sting. All the while, a narrator with a Russian accent laments the fact that he has yet to find an opponent who can match his skills and ferocity.
Fans online are already speculating that the narrator could be Kraven the Hunter, Spider-Man's longtime enemy. However, the real surprise comes at the tail end of the trailer. As Miles and Peter stare frightfully down an alley, the narrator can be heard asking if one of his adversaries will finally give him the fight he desires. At this, Venom steps out of the shadows and growls, "Yes, we will." 
Shortly after the trailer's premiere, Insomniac Games' Ryan Schneider confirmed on the PlayStation Blog that Venom will be voiced by iconic "Candyman" actor Tony Todd in the new game. While this news is definitely exciting, fans have been expecting Venom to make an appearance ever since the ending of Insomniac's first "Spider-Man" game.
Venom has been teased by Insomniac for a while
The new trailer only confirms what fans have suspected for quite some time concerning Venom in Insomniac's new Spider-Man video game universe. Over the course of "Marvel's Spider-Man," it is slowly revealed that Peter's friend Harry Osborn left New York City some time before the events of the game. Peter and his girlfriend, Mary Jane, came to learn that Harry was actually very ill and his father, the villainous Norman Osborn, had arranged for him to receive some kind of experimental treatment. An end credits scene in "Marvel's Spider-Man" revealed Harry to still be alive and floating in an unmistakable black goo, hinting that Peter's best friend may take on the role of Venom in a future installment.
This teaser was revisited during the end credits of "Spider-Man: Miles Morales," which revealed that Harry had awakened, which prompted Norman to ordered his son's release and left the future of the Osborns and Venom in question.
So fans are left to wonder if the Venom glimpsed in this trailer is Harry Osborn or one of the Symbiote's traditional hosts from the comics, such as Eddie Brock. Only time will tell, but it looks like Peter and Miles will have their hands full when "Spider-Man 2" is released in 2023. If you can't wait that long for more Symbiote action, then there's great news for Venom fans: The next feature film starring the character, "Venom: Let There Be Carnage," has been moved up to release on October 1.