The Blink And You'll Miss It Detail In The God Of War: Ragnarok Trailer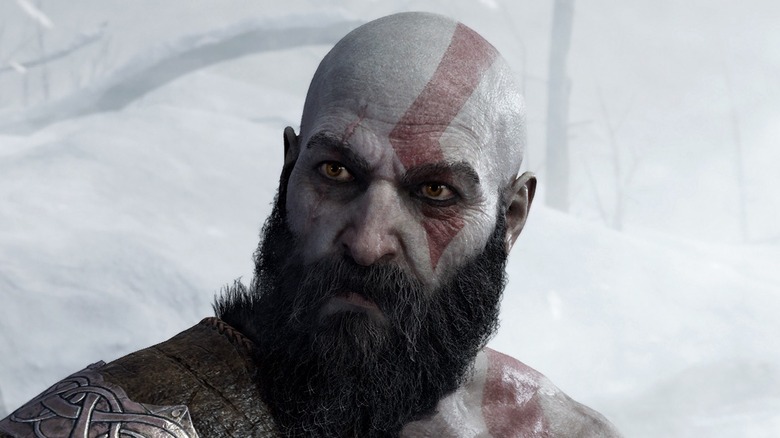 "God of War: Ragnarok" takes its father-son duo from "God of War" on a final journey to prevent the Norse apocalypse. Fans expect Atreus to grow into a bigger role in the sequel — specifically, one related to his other name, Loki.
For those who don't already know, Atreus is Loki. "God of War" already aligns with Norse mythology in multiple ways, including in-game counterparts for many of the gods and mythological creatures. Atreus might not resemble the manipulative trickster from the Marvel movies, but he carries the name of his counterpart. So, it's not much of a stretch to consider that "Ragnarok" might play with this identity more.
The "Ragnarok" trailer from the September 2021 PlayStation Showcase could hint at a change in Atreus' appearance or transformation into Loki. One of the beginning scenes shows Kratos crafting an arrow as Atreus enters the cave with a buck slung over his shoulder. Before he enters the cave, the boy's silhouette appears as a horned figure behind the mist — a visual cue that might point at Atreus' possible ascension. 
In fact, clues teasing Atreus' role as Loki in "Ragnraok" have popped up in other media too.
All signs point to Loki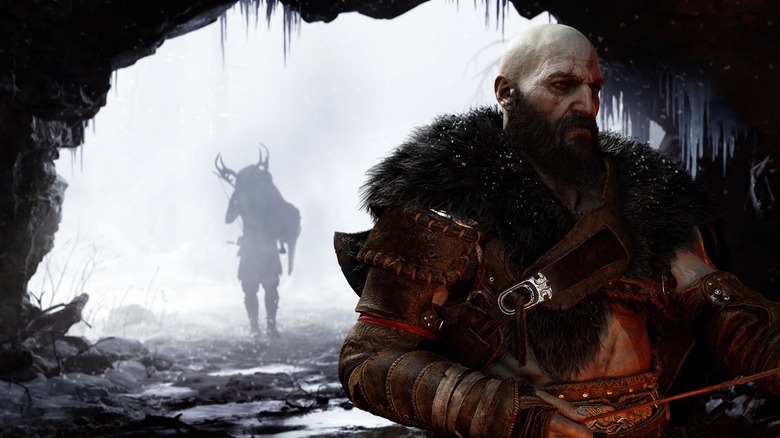 Loki typically appears with horns or antlers in modern interpretations. For example, Marvel Comics and the MCU's Loki wear a helmet with two curved horns on the front. So, showing Atreus with the horned silhouette could indicate more aspects of the trickster god coming out in his latest interpretation. Norse mythology also associates Loki with Ragnarok and the fall of the gods.
"Like most young people, he wants to understand who he is more than anything. In this case, he wants to understand who he could be," wrote Santa Monica Studio on the PlayStation Blog. "The mystery of Loki's role in the upcoming conflict is something that Atreus cannot let go of." Atreus will have to balance his personal conflicts with the responsibility of multiple worlds. "He wants to keep his family safe, but Atreus also doesn't want to stand by and do nothing while conflict consumes the Nine Realms," the post read. Fans will have to wait to see exactly how he does it.
Atreus appears to enjoy a more positive interpretation than the typical Loki from Norse mythology. However, that could change during "God of War: Ragnarok." It's also the last game in the series' Norse saga, so now's the time to wrap up any loose ends.
"God of War: Ragnarok" was originally slated for a 2021 release before PlayStation broke the news of a delay to fans. Now, "God of War: Ragnarok" will release for the PlayStation 4 and PlayStation 5 on an unspecified date in 2022.