NickMercs Reveals His Thoughts On Going Pro In Apex Legends
Former "Call of Duty: Warzone" streamer NickMercs has found a lot of success with one of the best battle royale games, "Apex Legends." While the streamer hasn't quite achieved all of the goals he set for himself when he switched titles, he has already entertained the idea of taking his play to a professional level and even shared his thoughts on the matter in a recent video.
Fans were shocked when NickMercs revealed the real reason that he was quitting "Call of Duty: Warzone," citing declining personal enjoyment of the game, which is overrun with incredibly bold cheaters. When he shared his views on the state of "Warzone," he also noted that he would be taking his considerable gaming skills and expansive community of followers from Twitch and YouTube to "Apex Legends." When he made the switch, his stated objective was to achieve the rank of Apex Predator, a title reserved for the top 750 ranked players worldwide.
While NickMercs hasn't attained that prestigious title yet, he did hit the preceding rank, Apex Master, a few weeks ago. That success encouraged him to join the Apex Legends Global Series tournament, and it was after competing in that event that the streamer shared his thoughts on going pro. Here is how NickMercs feels about taking his "Apex Legends" experience to the next level.
NickMercs isn't sure he has the time to play Apex Legends at a pro level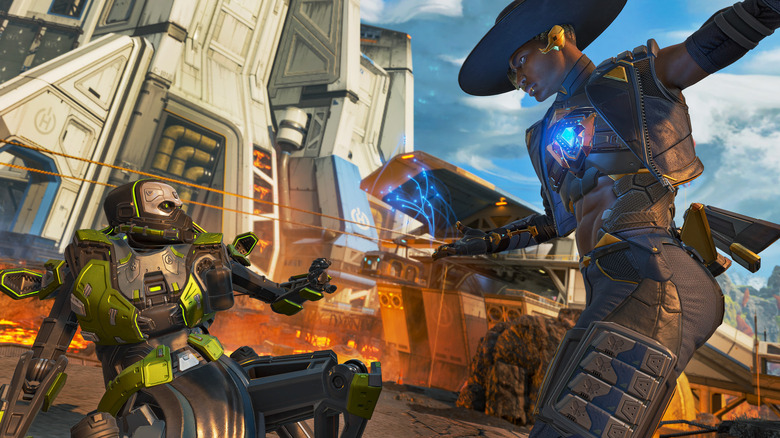 In a video titled "My Future..." NickMercs once again stated his enthusiasm for "Apex Legends" and gave fans some insight into how he felt about pursuing the pathway that the Apex Legends Global Series provides to professional-level competitions.
In the introduction, NickMercs told fans that in his first entry into the ALGS, he and his teammates made it to the third round of the tournament before being eliminated. That success led NickMercs to say, "After that tournament yesterday, I could definitely see myself playing in some more of these, man."
However, the streamer stopped short of committing to the hours and effort needed to become a true "Apex Legends" professional. NickMercs explained, "Now I don't see myself becoming an 'Apex' pro. I just don't know if I have the time or the energy to really hit the books on 'Apex.'" To be competitive at a top-tier level, NickMercs noted, he would need to make a serious commitment to studying game footage, and he wasn't quite ready to take on that responsibility.
The streamer plans on spending more time in tournaments and said he would "definitely" join the next open ALGS tournament, which is coming up in a couple of weeks. Fans of the streamer might want to keep track of how well NickMercs performs in that event for a better idea of how willing he is to commit to going pro in "Apex Legends" moving forward.