This MCU Actor Is Netflix's New Tomb Raider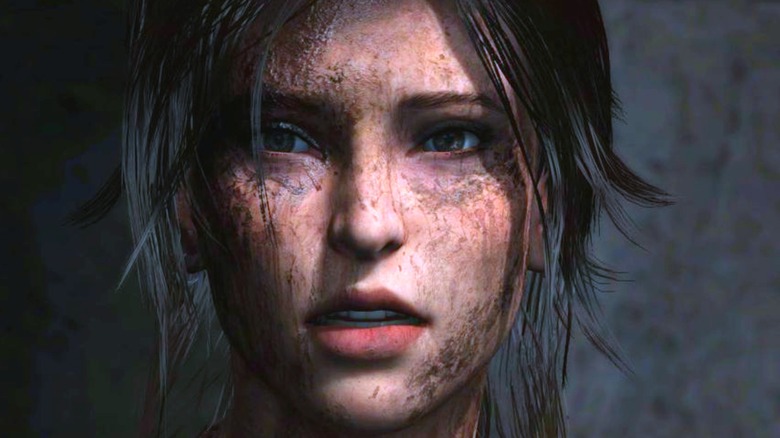 Early in 2021, fans caught wind that a "Tomb Raider" series would be coming to a certain streaming platform known for beautiful game adaptations like "Castlevania:" Netflix. Then, "Tomb Raider" fans got even more good news when Crystal Dynamics, the studio responsible for the most recent "Tomb Raider" titles, announced that it would be going all out for the 25th anniversary of the action franchise. Even though the studio didn't have a new game in development, 2021 was set to be a big year for "Tomb Raider" fans. Now, the good news continues as Netflix just announced who will play Croft in its upcoming series. 
Advertisement
Hayley Atwell, who many might remember as Peggy Carter in "Marvel's Agent Carter," has been confirmed as the voice of Lara Croft in the upcoming "Tomb Raider" Netflix series. The Hollywood Reporter explained that "Tomb Raider" will be Atwell's second role in an animated series, and that she will join Angelina Jolie, Alicia Vikander, and Camilla Luddington in the short list of actors to portray Lara Croft.
While Netflix hasn't announced a release date for its "Tomb Raider" series, fans are already getting excited over the possibilities of Atwell's performance. Many expressed their feelings about the casting news on Twitter, and the response was overwhelming.
Twitter feels conflicted
Disney+/ABC
While the internet's response was mostly positive, some longtime "Tomb Raider" fans weren't pleased with Atwell's casting. While gamers didn't have a problem with Atwell specifically, they felt upset that the production didn't choose Camilla Luddington to star as Lara. Luddington voiced Lara Croft in the reboot of the franchise, and has appeared in every "Tomb Raider" game since 2013. One commenter speculated that the only reason to choose Atwell over Luddington was because of her "star power." It's possible that Atwell will be easier to market due to her connection with Marvel, which grants her instant recognition with a certain group of fans.
Advertisement
On the other hand, many expressed joy that Netflix didn't choose to go with Luddington. "Unpopular opinion probably, but I'm so glad it's not Camilla," one fan tweeted. Some even argued that Atwell should star as Croft in any upcoming film projects as well.
Most importantly, Atwell's turn as Lara Croft will provide her with a chance to play a strong, powerful woman, just as she did in "Agent Carter." One Twitter user posted screenshots of comments about Peggy Carter, all of which highlighted how she's a good role model for girls and shows how inspiring she is. They then captioned the pictures with, "I can't shut up about this, such a perfect casting for Lara. This is REALLY important, Lara can be this character again." Viewers will have to wait and see how Netflix chooses to develop Croft's character in its upcoming series, but with Atwell set to star, it's easy to have faith in the show.
Advertisement