This TikTok Is The Resident Evil Movie We've Always Wanted
Capcom's "Resident Evil 2" was one of the titles that propelled the zombie franchise to worldwide fame. "Resident Evil 2" stars Leon S. Kennedy, a rookie police officer, and Claire Redfield, college student and younger sister of "Resident Evil" protagonist Chris Redfield. Leon arrives at Raccoon City for his first day on the job and ends up dealing with the outbreak, and Claire, on the way. TikTok user lake_skywalker recreated part of Leon's adventure at the police station, complete with the slow, awkward movements one would expect from a 1990s game.
Lake_skywalker reimagined what "Resident Evil 2" would look like in real life with a convincing Leon cosplay and creative video editing. In his Tiktok, an injured Leon hobbled through the halls until he found a Green Herb in the upstairs part of the building. He healed himself, then continued to run past zombies, occasionally shooting them. In the end, Leon opened a door and found himself unexpectedly close to the biologically infected. Cue the bite, then the loop. 
Commenters applauded how the confrontation with the zombie gave context to Leon's injuries at the beginning of the video. Alternatively, it accurately recreated what it's like to continuously injure oneself in the game. "I've never seen anyone do a more accurate representation of this in my life," TikTok user canelathewolf wrote. Other fans similarly commented that the TikTok was a faithful adaptation of the original game, evoking the time period when the original "Resident Evil" games came out.
Scarily accurate Resident Evil 2 recreation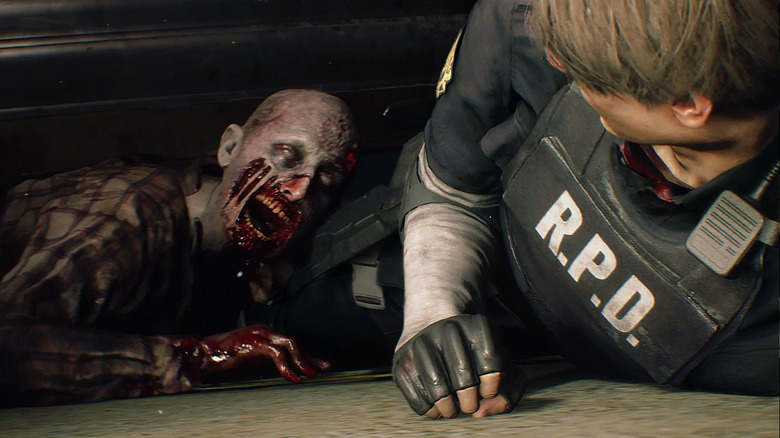 Lake_skywalker's TikTok brought back memories for many viewers. "Resident Evil 2" fans remembered Leon's echoing footsteps, the fixed camera angles, and not-so-fluid turns that inadvertently rammed the player into walls. Its loading door animation and other screens like the inventory page pulled from the game also added to the uncanny accuracy.
"Outstandingly done. Camera placement, character and zombie movements and actions, all spot on," one TikTok user commented.
This isn't Lake_skywalker's only video game production. They also have other "Resident Evil" related TikToks and TikToks featuring games like "Breath of the Wild" on their page. The more recent "Resident Evil" videos incorporate Leon's police station uniform, which only enhances the immersion.
"Resident Evil 2" is considered one of the best "Resident Evil" games of all time. Unfortunately, it's not readily available unless you have an older console like the original PlayStation, Nintendo 64, GameCube, or Dreamcast. You can play it on Windows if you find an original copy of the game and finagle with settings, like Techradar outlines in its guide, but it's easier just to play the 2019 remake.  
The "Resident Evil 2" remake is currently available for PlayStation 4, PlayStation 5, Xbox One, Xbox Series X|S, and PC for those who want to experience the widely acclaimed "Resident Evil 2" story sans the '90s era gameplay stumbles.