Netflix Just Proved It's Getting Serious About Gaming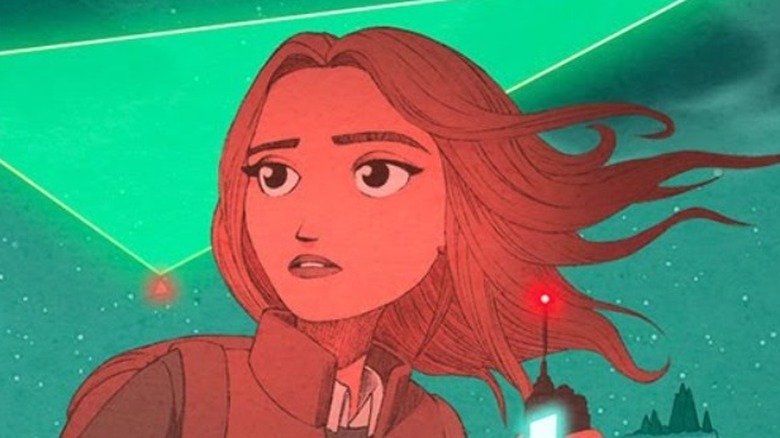 Netflix announced that it was ramping up its gaming efforts whether viewers liked it or not back in July of this year, and the world saw what that resulted in a few months later. While Netflix Gaming didn't work how we expected, the idea of having games set in popular TV shows like "Stranger Things" is still pretty exciting. Now, Netflix has proved that it's serious about the games it's creating, as it just signed a deal with Night School Studio, the developers behind the "Oxenfree" games.
"Oxenfree" was released back in 2016 and was nominated for Best Debut Game and Best Narrative at the BAFTA Awards of 2017 according to IMDb. The game was a knockout title from a small developer, and Night School Studios recently announced that the second game will be releasing soon.
Night School Studios shared that it was partnering with Netflix Gaming by posting a link about the partnership on Twitter. The group said that a "small team of story-loving game people joins big team of game-loving story people." These two "teams" of people coming together proved that Netflix is ready to get serious about creating quality games, and it's assembling the team of developers to do so. Night School Studio is a big draw for some indie fans, and it's poised to push Netflix gaming even further than anyone imagined.
How Night School Studios could push Netflix Gaming into success
While people might have been skeptical of Netflix when it started testing out mobile titles, the company seems to have more in mind than just turning its original shows into games. In Night School Studios's post about the partnership, the group pointed out that it'll "keep cooking up new game worlds," seemingly saying that games will be coming that are brand new concepts.
Night School Studios explained that Netflix just gave developers an "unprecedented canvas to create and deliver excellent entertainment to millions of people" — something the streaming giant already did for film and TV makers. Netflix arguably revolutionized the TV and movie industries, and now it could do the same to gaming. It's unclear if Netflix is looking to develop specific properties or simply get into the gaming world by acquiring game studios. The group also pointed out that it's the "first" studio to join with Netflix Gaming, which means we may see more groups partner with Netflix Gaming in the near future.
Netflix Gaming proved that it's thinking hard about the type of games it wants to make available, and the narrative excellence of Night School Studios shows that. The games coming up might just shatter the expectations everyone had for Netflix Gaming, and who knows, maybe another award nomination is heading Night School Studios' way.