Here's How To Get The Halloween Hats In Among Us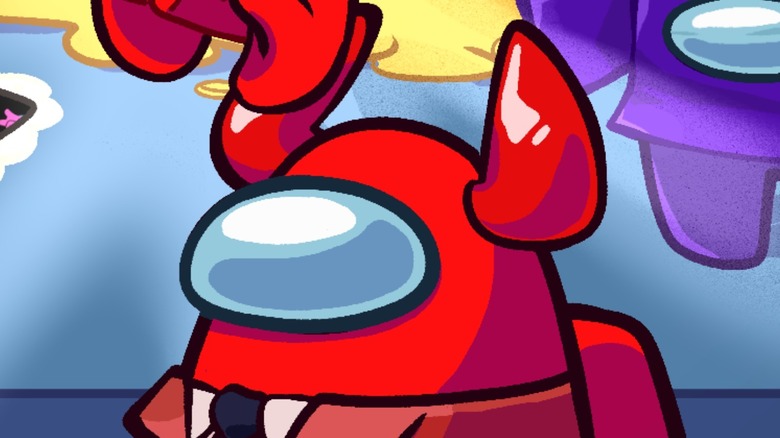 Innersloth
As October 31 gets closer and closer, "Among Us" players have probably noticed their crewmates, and maybe even the imposters they have spotted, wearing some appropriately spooky Halloween headwear.
The seasonal options that gamers have to dress their avatar up include choices like a witch's hat, a paper bag with a scary face drawn on it, and a hockey mask like that seen in the classic horror franchise "Friday the 13th." The choices don't stop there, as players can also wear the top half of a jack o' lantern, a fake knife through the head, and even a renaissance plague doctor mask. No matter what player's favorite Halloween tradition is, "Among Us" seems to have something in store to help gamers get ready for the scariest night of the year.
However, fans who go searching for those hats might find themselves a bit disappointed, as they are not available through any of the usual methods that players typically find new customization options in "Among Us." In fact, they are only collectible on the day of Halloween, October 31, and cannot be purchased or accessed at any point outside of that — or so it seems. Here is how "Among Us" players can trick the game into releasing all of the Halloween hats for use at any time.
Players need to change the date on their device to collect the Halloween hats in Among Us
Gamers who want the Halloween hats in "Among Us" can either wait until October 31 to log in and claim their seasonal headwear, or they can manipulate the date on their device to trick the game into releasing the new outfit options. Anyone who prefers not to wait until Halloween to start celebrating the season can do so by following a few simple steps.
A guide to accessing the Halloween hats created by Kanga and posted to YouTube demonstrates how this process works on PC. Gamers simply quit "Among Us" and head back to their desktop, then navigate to their Settings panel from the Windows button on the lower left-hand corner of the screen. In settings, players must then find the Time & Language options, which will allow them to disable the computer's automatic time and change the date to October 31 of any year.
Players can then launch "Among Us" and create a local game. Upon visiting the laptop, they should find all of the Halloween-themed hats available to them. Thankfully, once those options are unlocked, they remain unlocked, as Kanga points out, meaning that gamers can return the time on their device to the proper date and continue to use their new costumes.
While the exact steps will vary on mobile devices and consoles, the basic steps are the same, and the process should work regardless of platform. This means that "Among Us" fans can enjoy Halloween outfits at any time of year from the device of their choosing.