The Tomb Raider Horror Game You'll Never Get To Play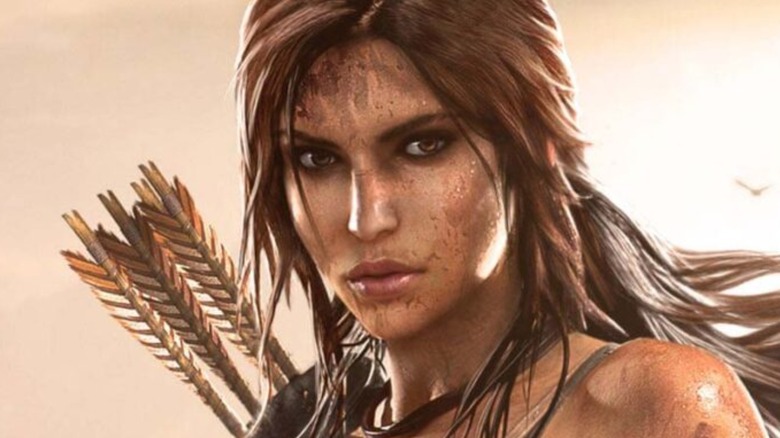 Square Enix
The "Tomb Raider" franchise turns 25 on October 25, 2021, and Square Enix has been celebrating its long history by releasing content on its official website and YouTube channel. Its most recent drop, regarding a game that was once known as "Tomb Raider: Ascension," has given fans a glimpse at a horror-themed Lara Croft adventure that they'll never get to try.
The anniversary celebrations, which have been full of good news for "Tomb Raider" fans, reach back to the series' first title, first released for the Sega Saturn before being ported for PC and the original PlayStation. That game's innovative approach to third-person platforming and its memorable star helped establish a franchise that released six significant titles over the next six years and was adapted into a pair of Angelina Jolie films, beginning with "Lara Croft: Tomb Raider" in 2001.
While the "Tomb Raider" franchise performed dependably over its first decade and a half, quality could vary from game to game. By the end of the 2000s, Square Enix had apparently decided that Lara Croft was ready for a fresh angle. The series' new look would eventually arrive in 2013's simply titled "Tomb Raider," but fans almost got something entirely different from a canceled "Tomb Raider: Ascension." Here is the horror game that "Tomb Raider" fans missed out on.
Tomb Raider Ascension focused on supernatural elements in Lara Croft's world
To celebrate this little-known attempt to broaden the "Tomb Raider" experience, Square Enix published three videos on YouTube that showed concepts, in-game footage, and branding material developed for "Tomb Raider: Ascension."
The clip showing some of the promotional materials demonstrated possible mock-ups for covers on different contemporary platforms, such as the Xbox 360 and PlayStation 3. Some of those images displayed remarkable similarity to the art style that would ship with "Tomb Raider" in 2013 and included a voiceover that seemed to position "Tomb Raider: Ascension" as an origin story for Lara Croft.
Fans can get an even better look at the "Tomb Raider" title that never was in the video showing the game's concept art and another with some very early in-game footage. While the "Tomb Raider" franchise has always dealt with supernatural elements, "Tomb Raider: Ascension" seemed poised to take things to the next level with some truly terrifying enemies.
While Square Enix didn't release any details about how the game transformed into "Tomb Raider," Unseen64 has published an excerpt from the digital book "Tomb Raider – The Final Hours" that offered some context. Apparently, the radical redesign of "Tomb Raider: Ascension," which took cues from things like the massive video game bosses in "Shadows of the Colossus," was ultimately seen as too big of a departure from the series' signature style. The concept was viewed by some as an "art house game," and "Tomb Raider" was eventually brought back in line with the globetrotting originals.