Dr Disrespect And NickMercs' Twitter Feud Is Turning Heads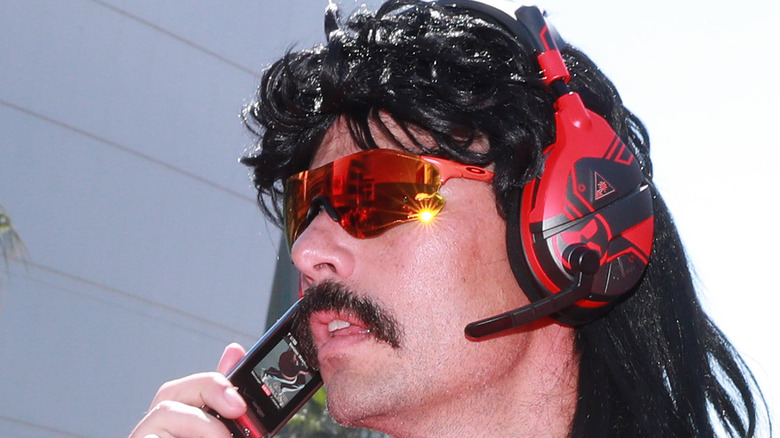 Rich Fury/Getty Images
It might not surprise anyone to hear that Dr Disrespect is still rallying against controller players and aim assist in "Call of Duty: Warzone." The Two-Time Champion isn't known to keep his mouth shut, especially about "Warzone." Just last month, even "Call of Duty" pros were furious with the Doc after he raged about aim assist in the game. This time, Dr Disrespect has rubbed NickMercs the wrong way, and the resulting argument got a bit heated.
Everything began on Oct. 20 when the Doc tweeted out his frustration that his "$300,000 PC ... does nothing against aim assist." In a response, NickMercs told him to pick up a controller (along with some choice language), which Dr Disrespect didn't react well to.
The Doc quoted the tweet and mentioned "slapp[ing] those plastic Ray Bans off [NickMercs'] face" when the two see one another in person. NickMercs then hit back by saying, "You wear a costume to work everyday." The thread seemingly ended with Dr Disrespect saying that he didn't know what NickMercs was talking about.
Both streamers have defended their viewpoints of "Warzone" in the past — just last week, NickMercs slammed a viewer over their "Warzone" trash talk, while Doc got so mad at the game that his fists started flying at his own chair.
Fans loved the drama between Doc and Nick
Fans were interested to see two of the biggest names in streaming bicker online. In fact, smaller arguments broke out as fans were quick to back up their streamer of choice. 
UFC boxer Max Holloway jokingly asked if he could referee the match between the two, and people ran with the idea. Some continued the joke by asking if it would be on pay-per-view, while others tried to get TimTheTatman in on the fight. People were already betting on a winner, and both streamers would be proud to know that they each had their own fans predicting their victory.
Of course, this isn't the first time the two have gone after each other. Back in April, Dr Disrespect posted a video titled "5ft Nothing NickMercs ROASTS Dr Disrespect." In the video, Dr Disrespect responded to barbs from NickMercs and, in classic Doc-like fashion, he hurled insults right back.
While it's unlikely that a fight will actually break out or be planned between the two, the idea has certainly entertained fans of the streamers.