The Real Reason Activision Won't Be At The Game Awards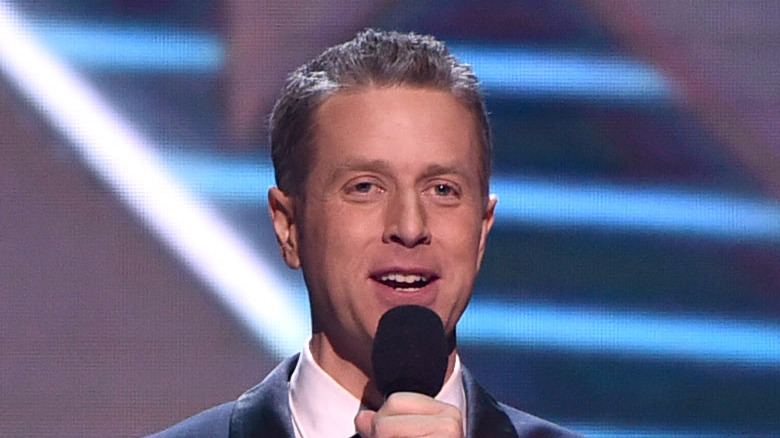 Alberto E. Rodriguez/Getty Images
Geoff Keighley, the host and organizer of The Game Awards, has announced that Activision will not be a part of the show, with the exception of its nominations. Keighley made the announcement in a Twitter thread after both he and the show were pressured by Twitter users to take a side in the issue. A Kotaku tweet about this refusal gained a ton of traction on Twitter with nearly 5,000 quote retweets, with many stating that a refusal to take a side benefits Activision Blizzard far more than the affected workers.
People demanded that Activision Blizzard either not be present at the show or that Keighley should make a statement during the show in support of its victims. All of this started back in July, when Activision Blizzard faced serious allegations in a lawsuit by the state of California. The initial case has snowballed since, with additional reports, lawsuits, and employee walkouts. The most recent report claimed that Activision Blizzard's CEO knew about the sexual misconduct despite claiming otherwise.
Because of all these issues with the "Call of Duty" developer, the Washington Post asked Keighley about Activision Blizzard and its presence at the show. Keighley said he supported developers coming forward with their stories but didn't want to take the spotlight away from the awards. After the internet caught wind of that statement, the pressure was on for Keighley to explain his stance more in depth.
The Game Awards statement about Activision Blizzard
"Beyond its nominations, I can confirm that Activision Blizzard will not be a part of this year's #TheGameAwards," Keighley wrote on Twitter. He went on to say that The Game Awards is a place to celebrate video games and not a place to tolerate "abuse, harassment, or predatory practices by any company." However, Keighly acknowledged the situation is nuanced.
"I also realize we have a big platform which can accelerate and inspire change. We are committed to that, but we all need to work together to build a better and a more inclusive environment so everyone feels safe to build the world's best games," Keighley wrote. He ended the thread by stating that everyone should be held to a high standard and that the biggest games of the years and the developers behind will be celebrated on Dec. 9 during the Game Awards.
Keighley stopped short of condemning the actions of Activision Blizzard, although it's possible he could still do that during the show. As for Activision Blizzard's nominations at the show, they are fairly limited. The company isn't showing up in the Game of the Year category or Best Narrative, instead its presence is felt in the best ongoing category where "Call of Duty: Warzone" was nominated. It's unclear if Keighley will take a hard stand against Activision Blizzard, but it at least sounds like there won't be any "Call of Duty" reveals.