Why Soulja Boy Wants To Sue Twitch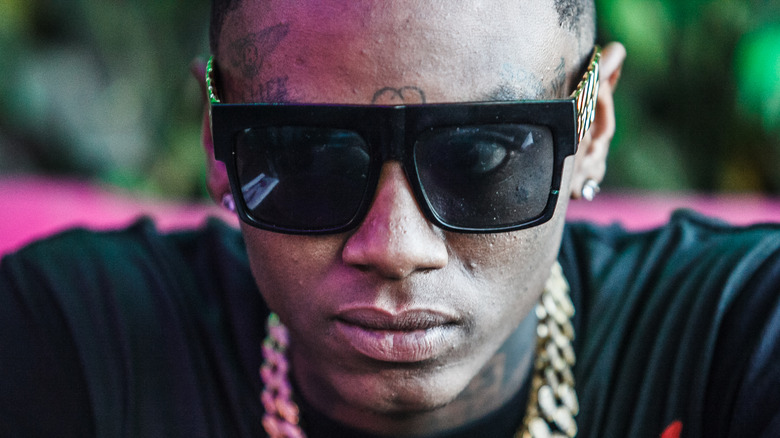 Hurricane Hank/Shutterstock
It's no surprise to see Twitch making headlines for being a little shady, but typically Soulja Boy isn't involved. Soulja Boy, popular rapper and Twitch streamer, is the most recent person Twitch has upset. After being banned multiple times with no kind of explanation, Soulja Boy has threatened to sue the Amazon-owned streaming platform.
Advertisement
Soulja Boy was banned twice on Dec. 9. The first ban was extremely short, only lasting five minutes. However, the second ban has been in place for the past week, and Soulja Boy has had enough — especially since he didn't know what caused the ban in the first place.
On Dec. 15, Soulja Boy took to Twitter and explained that being banned with no explanation "doesn't feel right" and that he needed to "sue these people." More tweets from the rapper continued to call out Twitch with more threats to take them to court. He even asked Twitter who the CEO of Twitch is and where to find them. He tagged both Twitch and Twitch Support in some of his messages to get the company's attention, but so far it seems the company hasn't responded. Soulja Boy claimed that Twitch was "racist" because of the way he's not being given an explanation for his bans. He also tweeted out the hashtags "#BoycottTwitch" and "#TwitchisRacist."
Advertisement
His fans were just as outraged, and his replies were flooded with support, solutions, and — because it's the internet — memes.
Soulja Boy's fans are just as upset
Some fans responded by tagging Twitch and asking why it banned Soulja Boy, and others mentioned that Soulja Boy should talk to Twitch Support. Even more fans were supportive of a potential lawsuit against Twitch and just wanted to offer sympathy for the situation. Fellow Twitch streamer MrDJSilva left a meme and asked if it was Soulja Boy's "first time" being banned with no reason given.
Advertisement
Twitter user 1_ferno suggested that Soulja Boy "make [his] own streaming platform," and even offered to create content for it. While Soulja Boy has made many business moves in the gaming industry, some of them lead to him being a failed console creator. Still, he's still hustled and kept going. A streaming platform for himself and others might do better than his attempt at consoles.
This wasn't the first time someone has threatened to sue Twitch — in fact, some fans brought up Dr Disrespect in the Twitter thread because of an alleged ongoing lawsuit with Twitch over his 2020 ban. Soulja Boy didn't say anything else about whether or not he would actually sue Twitch. However, he has shared multiple tweets talking about the situation since, so he may be getting his legal team ready in the background.
Advertisement