Jake Paul And Dream's Twitter Feud Explained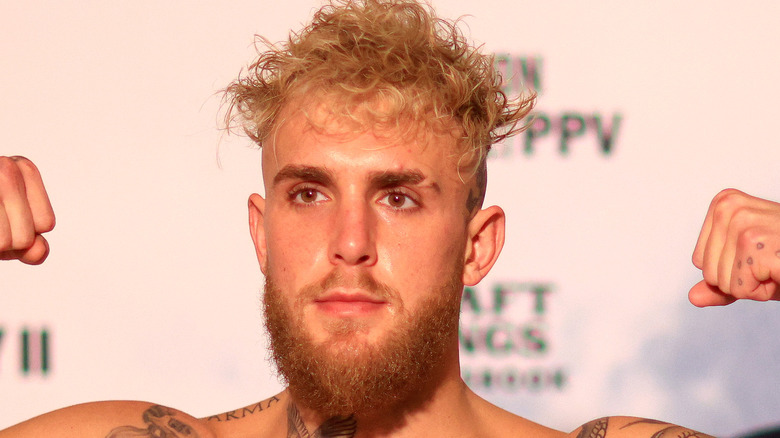 Mike Ehrmann/Getty Images
Over the last few years, internet celeb and controversy magnet Jake Paul has been embarking upon a career in professional boxing. Though some popular personalities such as Dr Disrespect have thrown shade at Paul's foray into boxing, Paul has been massively successful in the sport. MMA Junkie reported that Paul made at least $2 million for his recent rematch against Tyron Woodley, not including gate receipts. 
Advertisement
Paul has also kept himself in the news and social media cycle by frequently engaging in high-profile feuds, one of which is against UFC President Dana White. Paul recently challenged White in regards to the UFC's lack of healthcare and low fighter pay, with the burgeoning boxing star stating that it White rectifies these issues, he'll join the UFC for a possible big-money fight against Jorge Masvidal (per Dexerto). 
As an unintended side-effect, Dream — a Minecraft streamer with a scandalous past of his own — responded to a recent tweet from Paul directed at White, sparking confusion among both fanbases.
Why did Dream call out Jake Paul on Twitter?
On January 3, Jake Paul tweeted at Dana White, claiming that he only has three fights left in his boxing deal with Showtime, implying that he'd be willing to step into the octagon once that deal was up. Though White himself hasn't responded yet, Dream butted in with an inflammatory comment, stating that he would "kick [Paul's] a**." Many onlookers might be confused as to why there's a beef between Dream and Jake Paul, but judging from Dream's track record on Twitter, it seems that this callout was not really anything personal.
Advertisement
Dream has a long history of stirring up controversy on Twitter, be it responding to people mad about him winning a Game Award, or even garnering more likes than the official Wendy's Twitter account in a post poking fun at "Minecraft" streamers. Challenging Jake Paul to a fight might seem like a bold move — and one that could be interpreted as a sign of personal beef between the two — but Dream's usual shenanigans on social media seem to indicate that he just enjoys poking at high-profile targets. 
Regardless of reasoning, it's safe to say that fans probably shouldn't expect to see Dream stepping into the ring with Jake Paul any time in the near future. Unless, of course, Paul decides to take the faceless streamer up on his offer.
Advertisement